Newspaper review: Bankers under attack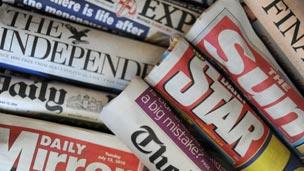 Bankers come under attack in several of the papers following the publication of an interim report by the Independent Commission, set up to look at banking.
For the Financial Times, bankers remain "less popular than second-hand car dealers and journalists".
The Mail reckons that it could add £1,000 a year to a £140,000 mortgage.
Others want to know whether the proposed changes will work.
A cartoon appearing in the Guardian shows a group of timid mice trying to restrain a very fat cat, which has a mouth full of mice and is only pretending to be asleep.
The Daily Mirror says paying higher charges to avert a second crisis would be "a grotesque injustice".
The paper says there will be "some relief today that a foreign intervention has gone right for once".
His refusal to give up power was a threat to all West Africa, it adds.
Most papers spare a thought for golfer Rory McIlroy after his failure to win the US Masters.
When the papers try to evoke the world when Yuri Gargarin became the first man in space, they all acknowledge the gulf between then and now.
The Times points out he flew in a craft 50 years ago containing "less sophisticated technology than you'd find today in a cheap mobile phone".
Related Internet Links
The BBC is not responsible for the content of external sites.