G20 inquest: Ian Tomlinson baton injury police 'query'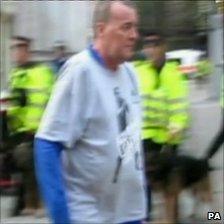 Police queried whether a baton caused Ian Tomlinson's injuries four days before video showing an officer striking him emerged, an inquest heard.
Mr Tomlinson died soon after he was hit with a baton and pushed by the officer during the G20 protest on 1 April 2009.
Pathologist Dr Freddy Patel was asked by the officer leading an inquiry into the death about possible causes of a bruise on Mr Tomlinson's left leg.
Dr Patel was also asked to determine if he was assaulted or hurt in a crush.
The pathologist found Mr Tomlinson, 47, had coronary artery disease and could have died at any time, leading him to conclude that the newspaper seller died of natural causes.
However, two later post-mortem examinations concluded that the newspaper seller died as a result of internal bleeding.
Dr Patel said police told him broken bottles and sticks were lying around Mr Tomlinson's body but there had been no police officers "in the immediate vicinity" when he was found.
The inquest also heard that Det Supt Tony Crampton, the City of London Police officer leading the investigation into the newspaper seller's death, asked Dr Patel about specific marks on the body.
During the post-mortem examination he asked the pathologist about what caused a large "tramline" bruise on Mr Tomlinson's left leg.
The query came four days before an amateur video emerged of Pc Harwood striking Mr Tomlinson with his baton and pushing him to the ground from behind.
Alison Hewitt, counsel to the inquest, asked Dr Patel whether he recalled Det Supt Crampton asking whether the injury could have been as a result of a baton strike.
She asked: "Did you say to him at the time that you could not rule that out but you thought it was more likely to have been as a result of falling against something?"
The pathologist replied: "If I remember correctly, what I said was that, as you say, I can't rule it out, but it's in keeping with contact with or from, against a linear object."
Det Supt Crampton also asked whether puncture wounds on the newspaper seller's right leg might have been caused by a dog bite.
Dr Patel told the inquest: "I explained to him that they weren't typical of a dog bite.
"I was told that there were a lot of broken bottles thrown there, so I said it could also have been caused by contact against a rugged sharp object."
Earlier, Pc Harwood told the hearing that Mr Tomlinson was seen being bitten by a police dog during the protests.
The inquest also heard that the pathologist was asked to perform a standard post-mortem examination after Mr Tomlinson's death.
However, police upgraded this to a more detailed forensic post-mortem and told Dr Patel that many protesters' sticks were found around his body.
The pathologist told the inquest he asked why detectives wanted him to carry out a more thorough examination of the newspaper seller's body.
He said: "I would have been informed by the coroner's officer that they would like to rule out if he had suffered any injuries as a result of an assault - and there was a big crowd there, whether he suffered any crush injuries related to the protesters in the public disorder."
Before he carried out his work, the police officers investigating the death gave Dr Patel some extra details about the case.
He told the inquest: "The additional information was that he was found collapsed outdoors on the pavement.
"But there were no police officers nearby in the immediate vicinity of the body.
"There was a lot of broken glass bottles and a lot of protesters were using sticks and there were a lot of sticks around the body where it was found."
Prior to his examination, the pathologist had also been told that the newspaper seller was an alcoholic with a series of medical complaints, who had slept rough for 20 years.
Dr Patel told the hearing he found about three litres (5.3 pints) of fluid in Mr Tomlinson's abdomen, which he decided was a mixture of blood and a liquid called ascites produced by liver disease.
This abdominal fluid was thrown away before the other pathologists raised questions about how Mr Tomlinson died, the inquest heard.
The pathologist was also asked whether he found evidence during his post-mortem examination that showed Mr Tomlinson must have died from coronary artery disease.
Dr Patel replied: "Partly that diagnosis is made on the basis there is no alternate explanation at the time of my examination to explain death."
Questioned why he ruled out internal bleeding as the cause of Mr Tomlinson's death, he added: "There was no major injury to any organs or blood vessels that could produce in a short period of time sufficient bleeding to cause death."
The inquest in London was adjourned until Wednesday, when Dr Patel will continue giving evidence.
Related Internet Links
The BBC is not responsible for the content of external sites.