Newspaper review: Nurses' fury at health secretary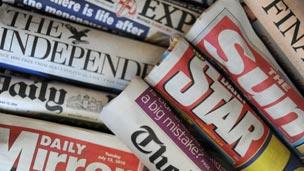 Pressures on the NHS make the front pages as Health Secretary Andrew Lansley is due at the Royal College of Nursing congress where he will be the subject of a motion of no confidence.
It urges ministers to consider removing Britain from the court's jurisdiction.
If not, they will be admitting we are no longer a sovereign nation, it says.
The paper says they are expected to show a record number of young people are looking for work.
Economists predict the number of unemployed 16 to 24-year-olds could soon rise above one million, it says.
One 23-year-old woman, who has sent out 50 CVs with no success, tells the paper being unemployed is "difficult" and "depressing".
A flock of bright orange sheep from Devon are pictured in many papers, among them the Sun and the Daily Express.
In the past few years, rustlers have stolen 200 sheep from farmer John Heard so he decided to take action and dipped them in orange dye.
They are now so distinctive that he has not lost any livestock this year.
All the headline writers have come up with the same bright idea: "Ewe've been tangoed."
Related Internet Links
The BBC is not responsible for the content of external sites.