Thomas Cook jet landed safely after leak, says report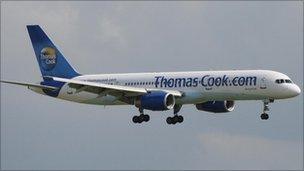 Pilots managed to land a UK-bound holiday flight safely after losing more than a tonne of fuel from an engine leak, an air accident report has shown.
The Thomas Cook Boeing 757-200, with 226 passengers and eight crew on board, flew to Gatwick Airport, in West Sussex, from Turkey in June last year.
The Air Accidents Investigation Branch (AAIB) report said considerable amounts of fuel lay on the Gatwick runway.
All movements at the airfield were halted for a time after the incident.
The captain estimated about 2,860lb (1,300kg or 1.3 tonnes) of fuel had leaked from the left engine - a Rolls-Royce RB211.
A fuel warning sign had come on as the plane entered French airspace about two hours and 20 minutes into the flight, the report said.
The captain considered diverting to Paris Charles de Gaulle airport but decided to alert Gatwick and the plane was cleared for an immediate approach.
The Gatwick fire chief advised passengers to evacuate using the right-hand side slides only "due to the considerable amount of fuel spilled on the runway, taxiway, left engine and brakes", the report said.
Engineers later traced the source of the fuel leak to a pipe coupling at the fuel pump in the left engine.
Related Internet Links
The BBC is not responsible for the content of external sites.