Newspaper review: PM's immigration speech leads papers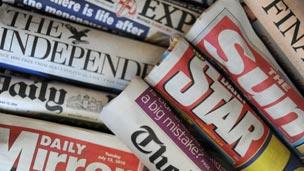 Several papers lead on the speech David Cameron will be making later, attacking Labour over immigration.
While, according to the Telegraph, if politics is the art of persuasion, Andrew Lansley must be among its least-skilled practitioners.
Even his colleagues find his health reforms baffling, the paper says.
On Wednesday, Hosni Mubarak's sons, Gamal and Alaa, were led in there, wearing handcuffs and white jumpsuits.
"Egypt's remarkable revolution has boasted many poignant moments.
"But the sight of the all-powerful Mubarak family being led into the top security cells which once housed their opponents will count among the most memorable," the paper says.
Police locked Beverley Bennett in a cell for six hours on suspicion of driving away from a filling station without paying for her fuel.
After realising their mistake, officers drove Mrs Bennet to her car - left in a lay-by - only to find it had been stolen.
Mrs Bennett, of Grays, Essex, received £2,000 in an out-of-court settlement.
Related Internet Links
The BBC is not responsible for the content of external sites.