Libya: Moussa Koussa questioned as Lockerbie witness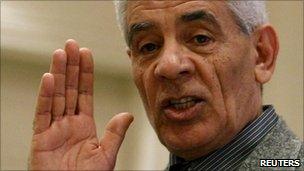 Libyan defector Moussa Koussa has been interviewed about the Lockerbie bombing as a "potential witness," Scotland's first minister has said.
Alex Salmond said if there had been evidence he was a suspect he would have been arrested by the authorities.
It comes after the Treasury announced Mr Koussa had been removed from the EU sanctions list in a notice on Thursday.
It said Mr Koussa was deleted from the list of people and companies who have their assets frozen by the EU.
The former head of Libyan intelligence fled Libya and Col Muammar Gaddafi on 30 March for the UK.
He has been accused of involvement in the 1988 Lockerbie bombing during his time with Libya's intelligence service.
Speaking on BBC One's Question Time, Mr Salmond said: "If there was any evidence he was a suspect I have absolutely no doubt he'd have been arrested and transported back to Scotland."
He added the Scottish authorities always applied the law of Scotland without fear or favour.
He is the most high-profile minister to flee Libya as rebels opposing Col Gaddafi continue their campaign, and Nato leads an international operation to enforce a no-fly zone.
The EU sanctions froze the assets of Col Gaddafi and members of his family, and banned the supply of arms, ammunition and any equipment that could be used for "internal repression".
In March, the list was extended to include the country's sovereign wealth fund and central bank.
A Foreign Office spokesman said the decision to remove Mr Koussa from the list was taken at the EU Council in Luxembourg on Tuesday.
He said sanctions were introduced to target members of Col Gaddafi's regime and encourage "behavioural change".
As Mr Koussa has chosen to leave the regime, the sanctions have been removed.
Foreign Secretary William Hague told Parliament on 4 April that he would be seeking to have him removed from the list.
Mr Hague said at the time: "In the case of anyone currently sanctioned by the EU and UN who breaks definitively with the regime, we will discuss with our partners the merits of removing the restrictions that currently apply to them while being clear that this does not constitute any form of immunity whatsoever.
"Sanctions are designed to change behaviour and it is therefore right that they are adjusted when new circumstances arise".
This week Mr Koussa left the UK for Qatar, where it was understood he would meet the Qatari government and a range of other Libyan representatives in the capital city Doha, the Foreign Office said.
The former foreign minister had been staying at an undisclosed location in the UK after travelling from Tunisia.
Related Internet Links
The BBC is not responsible for the content of external sites.