Dubai death Briton Lee Brown 'choked on vomit'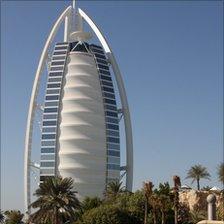 A British tourist died in police custody in Dubai after choking on his own vomit, local officials have said.
Lee Brown, 39, of east London, was arrested at the Burj Al Arab hotel after being accused of physically and verbally abusing a female staff member.
The UK has called for an inquiry amid reports he was assaulted by officers.
But the claim was denied by an unnamed police official quoted by local media and Dubai's attorney general said the force followed the "highest standards".
Dubai attorney general Issam Al Humaidan said a post-mortem examination concluded Mr Brown's death was caused by suffocation after vomit leaked into his respiratory tract.
In a statement he expressed condolences to Mr Brown's family and said that police in the Gulf emirate dealt with prisoners with respect and were "governed by the highest standards to preserve human rights".
According to reports in a number of UK newspapers, Mr Brown was arrested on 6 April while on a last-minute holiday.
He is said to have been taken to a Bur Dubai police station where he was allegedly assaulted and then left in a cell.
The Foreign Office said officials had been in contact with Mr Brown's family and were providing consular assistance.
It added that officials in Dubai spoke to Mr Brown after his arrest and had made arrangements to see him on 13 April.
A spokesperson said: "We can confirm Lee Brown's death on 12 April while in police custody. Our thoughts are with Mr Brown's family at this very difficult time.
"The Consul General has spoken directly to the Dubai police at the highest level on a number of times to stress the importance of a full investigation.
"The police have assured us that they are investigating and we are remaining in close touch with them."
The Foreign Office added that a "number of requests" had been made on behalf of four other Britons at the police station and UK officials visited them on 14 April and would be contacting their families.
According to the London-based Detained In Dubai support group Mr Brown's family contacted the British Embassy in Dubai with their concerns about his safety.
UK officials then visited the police station where he was being held before his death but were told he did not want to meet them, the group said.
The official told the paper Mr Brown began vomiting the day before his death but did not complain or ask for medical help.
In a statement, Jumeirah Group, the owners of the luxury Burj Al Arab hotel, said: "We are aware of this issue and understand it is being handled by the relevant authorities.
"We therefore have no further comment. For privacy reasons, it is our policy not to disclose any details or information about guests who stay in our hotels."
Related Internet Links
The BBC is not responsible for the content of external sites.