Royal wedding: History hints at 'sunshine on big day'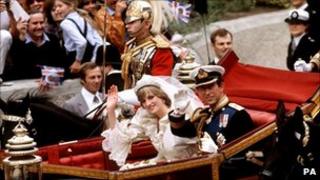 Prince William and Kate Middleton can expect clear skies and sunshine on their wedding day if the weather is anything like previous years.
While it is too early for a detailed forecast, the Met Office has analysed the weather for previous 29 Aprils.
It found the average high during the last 20 years was a mild 16.6C.
Early April saw some very warm spells, with parts of Britain recording temperatures of 21C, hotter than Rome, Athens and Los Angeles.
On 29 April 1994, temperatures in London climbed to a balmy 23.4C.
And in the past two years, St James Park in central London has been bathed in sunshine on 29 April, with temperatures peaking at 19.5C last year.
The coolest 29 April was in 2004 at 10C.
Despite this month's reputation for showers, average rainfall on 29 April over the last 20 years has been a low 2.6mm.
The Met Office has also looked at the warm, wet or windy weddings of royal couples from earlier generations.
Prince Charles and Princess Diana's July wedding date was a dry, sunny day with temperatures up to 24.4C.
The prince's second wedding to the Duchess of Cornwall on 9 April 2005 was a cooler affair, with a high of 11.3C.
Colder still was the weather on the December day in 1992 when Princess Anne married Timothy Laurence at Balmoral when temperatures reached no higher than 7C.