Newspaper review: Three leaders write with one voice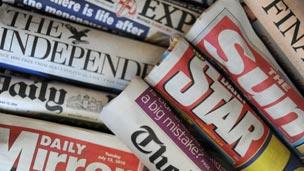 Above the headline: "The united front" are large photos of the three leaders.
The paper says Mr Obama put his name to the pledge to "fight on until Gaddafi goes" following criticism at home when the US pulled back its war planes.
Every winter, the forum holds meetings of politicians, business leaders and academics in the Swiss resort of Davos.
But, the paper says, Mr Brown's friends believe he would rather be director of the International Monetary Fund.
A fresh crisis for the eurozone could be looming with Greece defaulting on debt repayments, the Telegraph reports.
Despite a bail-out last year, the paper says the country is in deep recession and interest rates on 10-year Greek government bonds hit 13% on Thursday.
The paper says new figures show a record number of final salary occupational schemes closed last year.
The paper reports that a documentary for this summer will show the moment when a man with motor neurone disease takes his own life at a Swiss clinic.
It says summer sunshine could be stored and used to heat asphalt.
Related Internet Links
The BBC is not responsible for the content of external sites.