Hospital records of violence fall further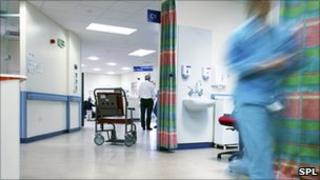 The number of people treated in hospital after violent injury fell in England and Wales in 2010, an annual and authoritative study says.
Doctors dealt with an estimated 313,000 violent incidents, down 11% in a year, the Cardiff University study said.
But for the second year running, the figures saw an unexplained rise in the small number of young children who went to hospital after a violent injury.
The study says the overall trend in violence has now fallen for a decade.
The annual research by the university's Violence and Society Research Group tries to capture an accurate picture of violence by counting incidents recorded at 59 emergency departments or minor injury units in England and Wales.
The researchers use these figures - more than 56,000 people in 2010 - to come up with an estimate for the total number of incidents dealt with by the NHS.
The 10-year-old study was launched partly because of contradictory official figures on violent crime. It does not record minor incidents involving victims who do not visit a hospital.
The latest survey found that almost six out of every 1,000 people went to hospital with an injury caused by violence during 2010.
Serious violence affecting young people aged 11 to 17 fell by 16.5% over the year, with 7,738 treated at the 59 units.
The most likely victims remained young men aged between 18 and 30. Doctors treated almost 28,000 in this age group over the year - although this was an 11% drop in the number of victims. The figures indicate that most violence happens at weekends.
Overall, the university estimated that violence had declined by almost a quarter over the 10 years of the study, with 101,000 fewer people treated in hospitals in 2010 than in 2001.
The survey also found that the number of children up to the age of 10 who needed hospital treatment rose by a fifth in 2010.
It said that although the number of children treated in the 59 units was only 615, or 1% of all those treated, the second annual rise indicated that there was a "real upward trend" of injuries to children.
The Cardiff University figures come as a Professor Eileen Munro, a child protection expert, finalises her review of how social services could become better at identifying children at risk of harm.
Professor Jonathan Shepherd of the university said: "The figures for the last two years show a disturbing upward trend in violence against children.
"The reasons are unclear, but the figures highlight the need for child safeguarding to remain a national priority.
"It is vital that the Munro Review, due to report this month, results in further action to improve the quality of our child protection services."