Botched roadworks cost taxpayers £70m, says LGA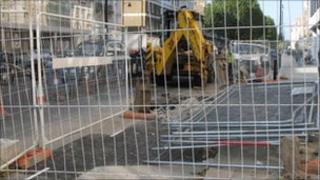 Botched roadworks are costing taxpayers in England and Wales £70m a year, the Local Government Association says.
It says councils are being left with the bill after contractors for utility companies fail to properly repair road surfaces they have dug up.
Workers dug two million holes last year and about 360,000 jobs were not properly completed, often leaving roads in a worse state, the LGA says.
The utility industry said controls over repairs were being tightened.
This was in response to an LGA suggestion that utility companies should pay a bond before starting any work, which could then be used to cover the cost of any subsequent repairs or delays.
The utility industry said any extra regulations would increase the cost of carrying out the work.
The LGA, which represents 419 local authorities in England and Wales, also wants councils to be given further powers to ensure roadworks are timed to cause minimum disruption to motorists.
Councillor Peter Box, chairman of the LGA's economy and transport board, said: "Roadworks are a pet hate of all motorists."
The LGA estimates that last year about 360,000 roadworks were not completed to the agreed specification, with work either over-running or roads not being restored to their original state.
Mr Box said: "Contractors should not be allowed to get away with botching road repairs and then leaving council taxpayers to foot the bill.
"Councils face the joint challenge of managing the toughest spending cuts in living memory and tackling a £10.5bn backlog in road maintenance.
"It is only right that companies which drill and dig up our roads pay their fair share towards fixing the damage."