Newspaper review: UK's military move hits the headlines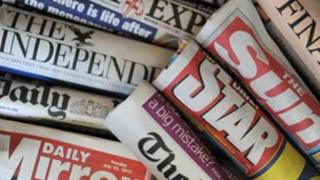 Britain's decision to send military officials to Libya to help advise the rebels fighting Col Gaddafi has put the conflict back on the front pages.
The Daily Mail is among many papers highlighting warnings from some senior MPs that David Cameron is risking a Vietnam-style quagmire.
Major-General Patrick Cordingley says it is "the thin end of the wedge".
"Britain is now publicly doing what it said it would not do... putting boots on Libyan ground," says the Guardian.
Job reference
David Cameron's hint that he may block Gordon Brown from becoming head of the International Monetary Fund has drawn much comment.
The Daily Telegraph is in no doubt the prime minister's remarks have shattered Mr Brown's hopes.
The Daily Express says Mr Cameron spoke with commendable vehemence.
But the Daily Mirror says outside the UK, Mr Brown's swift action to shore up the banks is credited with helping to avoid global economic meltdown.
Security checks
In the Guardian, Ed Miliband calls for an independent review of newspaper regulation after the News of the World's phone-hacking scandal.
The paper says the Labour leader has taken a risk as any such inquiry is likely to be resisted by the tabloids.
According to the Financial Times, the BA chairman has let fly at "one-size fits-all security checks" at airports.
Sir Martin Broughton asked if pilots should be subjected to the same checks as - for example - a Yemeni student.
Royal wedding
Kate Middleton's new coat of arms is widely pictured as the build-up to the royal wedding gathers momentum.
The Daily Telegraph's front page is dominated by a photo of London's Regent Street bedecked with union flags.
The paper says Scotland Yard is planning a "pre-emptive strike" against anarchists to prevent any disruption.
According to the Daily Express, the Queen has ruled out any public meeting with Kate Middleton's parents until after the wedding.