Royal wedding: What next for William after the wedding?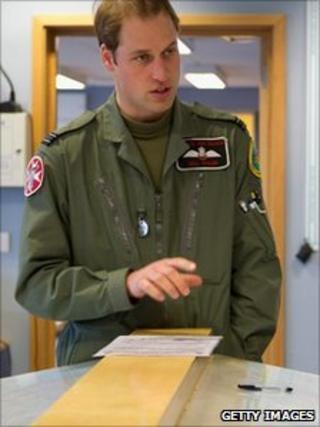 "William to be the next king", is a seductively attractive headline.
It offers freshness, youth and the prospect of a soon-to-be-married prince as a head of state in waiting.
Several opinion polls have suggested the son should replace the father at the front of the queue.
But royal succession isn't a beauty contest, or an episode of The X Factor. British citizens and subjects are observers of the process, not voters.
Constantine of Greece knows all about royal destiny. His time came, briefly, in the 1960s, before he was deposed in a military coup and his birthplace voted to become a republic.
Living in exile in London for decades, he has watched Prince William, his godson, grow up.
When the prince, who's an RAF search and rescue pilot, became engaged, the former king of Greece told the BBC he'd warned William in a letter that, "it was dangerous to fly a helicopter when you're in love.
"I said, 'Be careful, concentrate on that helicopter now and think of Catherine later on!'"
The ex-monarch is a stickler for the status quo. He doesn't believe William, who he describes as "a hell of a nice guy", should leapfrog Prince Charles.
Constantine said: "It works from father to son or mother to son and that's how it goes. They have to wait their turn… that's how it should be, because we are not politicians. We don't strive for that chair. The chair is there if it's needed."
'Madness to be king'
There are voices of dissent. One of the more surprising supporters of an abandonment of royal business-as-usual is former newspaper editor Sir Max Hastings.
An article he wrote about the Prince of Wales in the Daily Mail last year was headlined "Why I believe it would be madness for him to be king".
In an interview with the BBC, Sir Max suggested that the longer the Queen reigned, the more attractive a king William might become.
"If time passes and Prince William is more and more at the centre of the stage, one question I think is bound to be asked," he said.
"Would it be in everybody's interests - including those of the Prince of Wales - for a new, young, next-generation Prince William to succeed to the throne? I think an enormous amount will depend on what seems to be the will of the British people."
The will of William is clear. He doesn't want to rock the Windsor boat.
He has a healthy grandmother, his father shows no sign of giving up on his long wait for what his ex-wife called "the top job", and he was born into an institution which is still scarred by the trauma of Edward's abdication.
Homeless
After his marriage to Kate Middleton, Prince William won't be skulking around waiting for a vacant throne to occupy.
His focus will be on married life and his job on Anglesey with the RAF. He'll make more trips overseas representing an octogenarian monarch and he'll continue to work for his chosen charities.
These include Centrepoint, which helps young homeless people. At first glance it's an unlikely pairing - a prince in a palace aiding people who have no roof over their head.
Those who have seen William in action insist it's a mutually beneficial relationship.
Anthony Lawton was Centrepoint's chief executive when the son of Diana, Princess of Wales became its patron.
Diana introduced William and Harry to the plight of the homeless. Mr Lawton says getting the prince involved was his "biggest achievement" when he ran the charity.
He says William got stuck in from the outset - learning to cook his first lasagne - and he could relate to the young people he met because of their shared knowledge of popular culture.
The former chief executive insists the future king's interest is more than skin-deep, adding: "He does it because he really cares about it".
Another thing he cares about passionately is how his wife-to-be will cope as a senior member of a family like no other.
In the build-up to his wedding, there's one statistic which may just have given the prince pause for thought.
The government estimates the global television audience for the celebration will be two billion.
That's two billion people with possibly more than a passing interest in his peculiar existence.
Two billion people who may not be satisfied with a "now you see them, now you don't" approach to royal life in the coming months and years.
But that's precisely how Prince William wants to play it. He's sidling, not striding to embrace his destiny.
Caution - borne out of Diana's troubled life as a princess - is embedded in his DNA.
After the wedding there will be demands, possibly vocal ones, for William and Kate to be more and more on display.
These will be demands which William will be determined not to satisfy.