Recorded crime continues to fall in England and Wales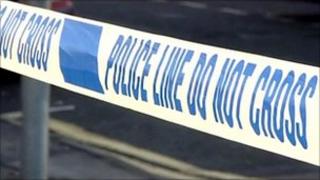 The number of crimes recorded by police in England and Wales fell by 6% in the year to end of December 2010.
All types of recorded crime fell, except sexual offences and some types of theft, up by 3% and 1% respectively.
Violence recorded by police fell 6%. But there were contradictory figures on whether the number of home burglaries had risen or gone down.
The figures continue a general trend of falling crime and rising confidence in police.
The government uses two methods to measure crime: offences recorded by police forces and the British Crime Survey, which asks people about their experiences, rather than just what they report.
According to the figures for the 12 months to the end of December, the BCS found that overall crime fell by 3% compared with the previous year. The BCS found no significant change in the rate of violence.
Police recorded a 17% fall in criminal damage and a 12% fall in vehicle crime, typically car break-ins. Police figures also showed a 1% fall in robberies.
Burglary contradictions
However, the two official measures came up with different figures for home burglaries.
Police forces recorded a 7% fall in domestic burglaries over the 12 months - but the British Crime Survey said that they had gone up by 14%. The discrepancy has widened since the last set of quarterly figures.
Police statisticians are examining the difference and believe it may be a "perception gap", rather than a fault with the way officers are recording crime.
They point to the example of damage to a property's perimeter or to a garage door. While a householder may suspect attempted burglary, the police may categorise it as criminal damage because there is no clear evidence of burglary.
The BCS recorded a 12% rise in bicycle thefts and an 8% rise in other household theft. Police also recorded a 7% fall in firearms offences.
The overall risk of being a victim of crime remained roughly the same as the previous 12 months, at just over 21%.
The proportion of people who said the police were performing well increased from 56% to 58% over the year.
There was also a slight rise in the number of people happy with the way local councils were tackling anti-social behaviour.
Sexual offences up
Police figures showed 3% rise in recorded sexual offences - up from 53,091 crimes to 54,602. The most serious sexual offences were up 6% to 44,693, compared with 42,187 in 2009.
The figures also represent a slowing in the rising trend in these offences.
Chief Constable Jon Murphy, the head of crime for the Association of Chief Police Officers (Acpo), said: "The official crime statistics are showing that the risk of being a victim of crime remains at a 30-year low, and downward trends continue for most offence categories.
"Ongoing increases in sex offences, following efforts nationally to improve all areas of sex offence investigation, are also showing signs of slowing.
"We remain determined to bring to justice people who commit sex crimes - and encourage victims to have the confidence to report such crimes."
Policing Minister Nick Herbert said: "While reductions in crime are welcome, there is clearly no room for complacency. The public rightly remain concerned about levels of crime and particularly anti-social behaviour, and we are determined to ensure that the police have the right powers to do the job.
"We have also commissioned an independent review of crime statistics which will report in due course."
But shadow home secretary Yvette Cooper said: "Most people would agree that crime is still too high and we want it to continue to fall, as it did during the Labour government.
"But that's why the Tory-led government are wrong to make it harder for the police and communities to fight crime by cutting over 12,500 police officers, forcing specialist police units to close, and weakening powers to use DNA, CCTV and Asbos."