Kinga Legg murder suspect loses extradition challenge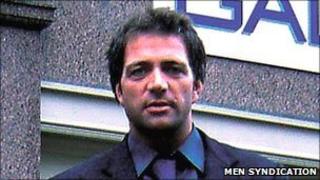 A British businessman accused of killing his millionaire girlfriend in a Paris hotel room has lost his challenge against extradition.
The High Court approved extraditing Ian Griffin, of Cheshire, despite his attempt to take his own life.
The battered body of 36-year-old Kinga Legg was found in a room at Hotel Le Bristol in May 2009.
Mr Justice Collins said the risk of Mr Griffin killing himself could be managed by the French.
Kinga Legg was found dead in her bathroom in May 2009, two days after she and Mr Griffin had booked into the hotel for an overnight stay. The couple were on their way to getting married.
According to the High Court judgement, the couple went to dinner and argued after drinking too much. He walked out of the restaurant and back to the hotel - only to find Ms Legg already there after taking a taxi.
The psychiatrist's report quoted in the judgement reveals that Mr Griffin has since said that he woke up the next morning with Ms Legg in bed next to him.
"The room had been trashed and its contents broken," said Mr Justice Collins' judgement.
"At first, he thought she was asleep, but he noticed blood around her mouth. He tried to wake her and put her into a hot bath and gave her mouth to mouth resuscitation.
"He realised that she was dead. He panicked and left. He left in his father's car but realised after a time that he could not drive safely and so he called his parents to collect him from France. He remembered little else."
About a week after Ms Legg's battered body was discovered, Mr Griffin was found living in a tent in woodland in Macclesfield, Cheshire.
Mr Justice Collins said that Mr Griffin's account was "bizarre" and that there was a strong prima facie case that he was responsible for Ms Legg's death.
He said the suspect had been carefully monitored since his arrest but doctors had been unable to treat him fully because he sometimes refused to co-operate.
The judge said: "When he knew he was to be transferred to Wandsworth [prison], he stabbed himself with an electric toothbrush whose head he had removed."
There were two further more serious suicide attempts.
Doctors concluded that Mr Griffin's mental state could only be improved if the trial took place, rather than being further delayed.
Sanctioning the extradition, Mr Justice Collins said: "It is apparent that there is a real risk of suicide. No doubt there is an element of manipulation.
"The evidence in this case, as would be expected, shows that he will be treated in France in an entirely proper fashion and that all necessary steps will be taken to ensure so far as reasonably possible that he will not succeed in killing himself.
"The utmost care should be taken to ensure that he does not attempt serious self harm or suicide in the course of his extradition."