Gourmet food cooked and served by convicts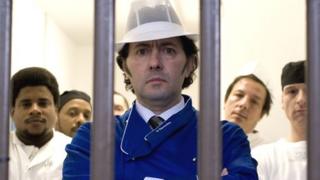 Wild mushrooms en croute, guinea fowl, red cabbage and fondant potatoes. Not a typical prison dinner menu, but the kitchen turning out this food at HMP High Down in Surrey is a one-off.
At the centre of this prison for 1,100 criminals is a gourmet restaurant, where the prisoners themselves cook and serve food for people who book their visit in advance.
The Clink is the brainchild of professional chef and prison kitchen manager Al Crisci.
"It's a real restaurant. These are paying customers so they expect a service. The Clink is not on the outside of a prison, the Clink is bang smack in the middle of the prison and there's always a security risk," he said.
The restaurant is funded by the Clink Charity and a discerning clientele.
"We have MPs, we have lords and ladies, we have some celebs, we have all sorts," said Mr Crisci.
Guests have to go through security checks and alcohol is not on the menu, but otherwise it could pass as a restaurant in London's West End.
It offers prisoners an opportunity to change, to gain experience of food preparation, food service and cleaning qualifications with the chance of a full-time job within the hospitality industry upon release.
It opened in 2009 and in its first 18 months released 13 fully-trained chefs and waiters from prison with a catering job.
Inmates are paid £14.70 a week to work in the restaurant - 50p a week more than those working in the main kitchen where the prisoners' food is prepared.
High Standards
The Clink Charity hopes to build on its success at High Down and roll out more restaurants in other prisons.
Mr Crisci said he demanded high standards: "It's a dictatorship so I'm the dictator. They have to do what I say. You know it's got be like that. I've got 18 prisoners in here. I can't have anarchy."
For some it is not easy - breaking the rules by taking food or drink without permission, hacking into a till or having a crafty cigarette can be too much of a temptation. But if they are caught, they are out of the restaurant business.
For others though, it really can mean a new start.
Robbie Lister, 24, grabbed his chance enthusiastically when Mr Crisci offered him a job as chef and soon made his mark with the Italian chef Giorgio Locatelli, owner of the Michelin-starred Locanda Locatelli restaurant.
Mr Locatelli is a supporter of the Clink project and has been happy to do a stint in the kitchen passing on some of his tips to the inmates.
Robbie was offered the chance of some work experience at Locanda Locatelli and was released on temporary licence.
"I'm feeling nervous but it's a good nervous. It's a good opportunity. I could turn a page and start a new chapter," he said, as he arrived at the restaurant with Mr Crisci.
Robbie's first challenge was to make a fennel and blood orange salad, to satisfy the palate of Mr Locatelli.
"I'm sure I can handle it. If I can pass the test of being in prison, I can pass the test of doing this hopefully."
Mr Locatelli had a few words of advice for him: "When you do something as simple as that, you really need to be spot on with the seasoning and everything, so that's what we're going to taste - your ability to season it."
After two mouthfuls, he told Robbie: "I think you can come back."
Robbie now has the prospect of earning £19,000 a year.
It was a great moment for Mr Crisci too: "I've got faith. I think he's going to start slow, it's going take him a while but I think he's going to be alright. I think he's got it in him."
And he said that was the main aim of the project: "In a nutshell, the idea of The Clink is a prisoner comes in and a very well trained chef leaves us with a job. And society is better off."
The Prison Restaurant can be seen on BBC One at 2235 BST on Tuesday 26 April and after on BBC iPlayer.