Syria: UK citizens urged to leave by Foreign Office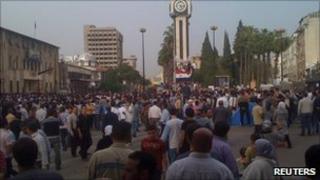 The Foreign Office has urged Britons in Syria to consider leaving the country.
The UK had previously advised against all but essential travel, amid continuing protests against the rule of President Bashar al-Assad.
The Foreign Office said in light of a "deterioration in the security situation" it is now suggesting UK citizens leave by commercial means.
The announcement came after Syria moved to lift the country's decades-old state of emergency.
In its updated advice, the Foreign Office says: "We advise against all but essential travel.
"This is because of continuing disturbances in urban centres across the country, and reports of live gunfire by security forces resulting in an increasing number of deaths."
A spokesperson added: "The safety of British nationals is always our primary concern. At present there is relative freedom of movement, with all major roads and airports remaining open and with commercial airlines still running scheduled services with capacity available.
"It should therefore be possible for British nationals to leave if they choose to do so."
'Legitimate demands'
Britons who decide to stay in the country were told to exercise caution and maintain a high level of security awareness, especially in public places and on roads.
They were warned to avoid large crowds and demonstrations.
The advice goes on to warn against any travel to the coastal areas of the country north of - but not including - the city of Tartous, up to the border with Turkey, including the cities of Banyas, Latakia, Deraa and Homs.
More than 200 Syrians have been killed during unrest since security forces cracked down on protests which began in March.
Despite the law lifting the state of emergency - a key demand of protesters - demonstrations continue and the Foreign Office said "renewed violent clashes" could take place on Friday.
Foreign Secretary William Hague has welcomed the lifting of a state of emergency but said there was "still much more to do".
He said: "I call on the Syrian security forces to exercise maximum restraint and on the Syrian authorities to respect the people's right to peaceful protest."
He added the government "should act urgently to respond to the legitimate demands of the Syrian people for political change and move towards implementing much needed reform".