More Anglicans to convert to Catholicism at Easter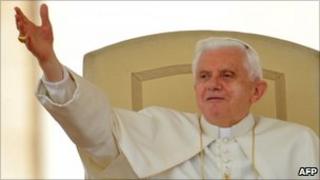 About 900 Anglicans are expected to convert to Catholicism this Easter in protest at the Church of England's decision to ordain women as bishops.
They will join a special section of the Catholic Church - the Ordinariate - which has been created specifically for them by Pope Benedict XVI.
The group from dioceses in England and Wales includes 61 former clergy.
The newly-appointed Archbishop of Cardiff has praised the CofE for the way it has dealt with the new group.
Last month, the first wave of about 600 Anglicans officially left the Church of England. They attended Mass marking Ash Wednesday before spending Lent preparing to convert.
Five former bishops have already been ordained as Roman Catholic priests.
BBC religious affairs correspondent Robert Pigott says while the numbers are only a tiny proportion of the CofE's membership, the conversions were still a "significant development".
Traditionalists on the Catholic wing of the Church of England, who feel increasingly embattled, will now have an easy escape route into Catholicism if their own church continues, as they see it, to become more Protestant and more liberal, our correspondent says.
'Soured relations'
He adds that the Pope's creation of the Ordinariate at a time of tension in the Church of England has soured Catholic-Anglican relations.
George Stack, who is shortly to become the most senior Catholic bishop in Wales, has praised the "graciousness and understanding" with which Anglicans had dealt with the new group.
He said the Ordinariate had allowed Anglicans to join the Catholic Church as a group and maintain their identity.
"I think mainstream Anglicans recognise that there are people who feel that they must make this journey and I must say, they have dealt with it very, very well," the Rt Rev Stack said.
Anglicans who have joined the Ordinariate are unhappy about developments in Anglicanism they claim have led it away from traditions historically shared with Roman Catholics.
The Ordinariate will allow Anglicans to maintain elements of their heritage and it is led by three former Anglican bishops - Andrew Burnham, Keith Newton and John Broadhurst - who themselves converted earlier this year.
It will be funded initially by donations but its priests will not receive a salary, as they did in the Anglican Church.