Newspaper review: Two wars, two British casualties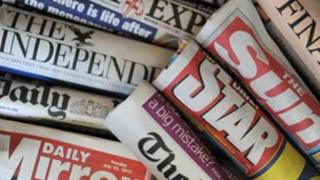 The front pages feature two British casualties from different wars.
The Times has the death of Tim Hetherington, a photographer who is the first UK casualty of Libya's civil war.
The death of bomb disposal expert Captain Lisa Head - injured while defusing a bomb in Afghanistan - is reported on several front pages.
There is more unease about the UK's involvement in Libya. A comparison made by the defence secretary to Afghanistan worries the Daily Mail and the Mirror.
'Gran overboard'
There are dramatic pictures of a 73-year-old British woman struggling to stay afloat in the North Sea after she was dropped into the water by paramedics during a rescue mission.
Janet Richardson, who became ill on a cruise ship off Norway, makes the Sun's lead - headlined "Gran overboard".
According to the Guardian the accident happened as she was being transferred to a lifeboat on a stretcher.
The Mail says she spent four minutes in the icy sea, and is now in hospital.
'Slap in the face'
The European Commission's request for an increase of 4.9% in its budget is greeted with contempt by many papers.
It is the lead for the Daily Telegraph, which declares: "Brussels shouldn't be given a penny more".
The Mail considers the submission to be a "slap in the face" for David Cameron, who limited a spending rise last year.
The Express describes the demand as "brazen" - proving, it says, that the juggernaut of EU excess continues regardless of the financial crisis.
Wedding tails
Kate Middleton's shopping trips get more attention, with pictures of her in Chelsea. The Mail says she was buying clothes for her honeymoon.
Aside from her dress, the issue of what the PM will wear to the wedding has been the most hotly debated sartorial subject recently, says the Telegraph.
Mr Cameron was criticised after Downing Street indicated he would wear a lounge suit instead of full morning suit.
But the Times says tails it is. No 10 says the press were wrongly briefed.