Double bank holiday getaway begins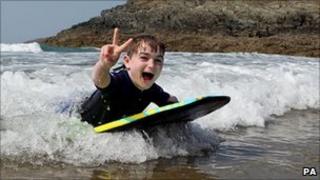 Travel plans are getting under way as Britain begins a run of two double bank holiday weekends.
Rail works will affect some routes, and major motorways - including a reopened M1 - are expected to be very busy.
About 18m people are expected to use their cars but high fuel prices will mean shorter trips, predicted the AA.
Meanwhile the government has issued a "smog alert" in England and Wales for ozone and polluting particles PM10s, which can affect people's health.
Defra said some people, including those who have asthma, and particularly the elderly, could be affected by the high pollution levels and may notice an impact on their breathing over the Easter weekend.
It urged the public to take "sensible precautions" like avoiding exercising outside in the afternoon and not making unnecessary short car journeys.
For many people, especially in England and Wales, the warm weather is set to continue all weekend.
This year's late Easter and the royal wedding, on 29 April, have resulted in some workers having to take only three days' leave next week to get an 11-day break.
But BBC transport correspondent Richard Scott said that with Easter coming at the end of the school holidays for many this year, those with children were likely to have already gone away and be returning this weekend.
He said authorities at London's Heathrow airport had been expecting 214,000 people on Thursday, with more than 1m people planning to fly over the entire Easter break.
The current top destinations are New York, Dubai, Dublin, Hong Kong and Amsterdam, according to Nick Cullen, chief operating officer for BAA at Heathrow.
On the roads, a seven-mile stretch of the M1 in north London - which was affected by a fire in a scrapyard last week - has now fully reopened.
All three lanes in both directions between junctions 1 and 4 are open, although a 50mph speed limit is in place on a bridge which was damaged by the fire.
Power failure
AA president Edmund King said motorists setting off for the Easter break would feel the squeeze of soaring fuel costs, with average pump prices now more than 135p a litre for petrol and almost 142p for diesel.
According to an AA/Populus survey of 13,000 people, 85% said they were going to stay in the UK this weekend.
The AA said drivers had told them they would be travelling shorter distances than last year, because of fuel costs.
Mr King said: "For every 100 miles you travel by car it costs you £2 more than it did last year due to the high cost of diesel and unleaded [fuel]. It'll cost you about £10 more just to fill up."
Meanwhile rail passengers travelling on the West Coast Main Line have been told to expect delays and cancellations after a power failure left a train stranded at Berkhamsted, Hertfordshire.
Network Rail said the 1430 BST service from Manchester Piccadilly to London Euston was stuck with passengers onboard for more than four hours.
A spokesman said the incident had "effectively created a bottleneck" on the line and delays may have a knock-on affect into Friday.
While rail engineering work will also affect some travellers this weekend, Network Rail said 18% more trains would run compared with last Easter.
Among the routes affected will be sections of the West Coast Main Line, where buses will replace trains.
Some disruption is forecast for Great Western line trains, and engineering work is due to hit services in Hampshire, Kent and East Anglia. Work is also being carried out on the Great Eastern line out of London's Liverpool Street station.
Buses will replace trains on the Stansted Express London to Stansted airport service until noon on Easter Sunday.
Network Rail said that during the Easter and May Day bank holiday weekends, engineers would be laying new track, repairing bridges, updating signalling systems and overhead power lines, and improving stations.
But it said 90% of the rail network would run as normal.
National Express said its busiest day for coach travel over the period of the two bank holidays would be Easter Monday.
For those remaining in the UK this week's warm sunshine is set to continue.
BBC weather forecaster Carol Kirkwood said: "For much of England and Wales in particular it is going to be lovely, bar a few showers. Scotland and Northern Ireland will be seeing a little bit more in the way of wet weather."
The enhanced content on this page requires Javascript and Flash Player 9
Map Key
Land
Cloud
Lakes, Rivers & Sea
Fog
Light
Heavy
Frost
Light
Heavy
Pressure Fronts
Cold
Warm
Occluded
Rain
Light
Heavy
Extreme
Snow
Light
Heavy
Temperature tab only
Temperature (°C)
More details from BBC Weather