Royal wedding: William and Kate 'need courage'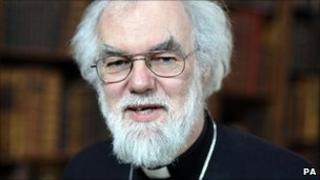 The Archbishop of Canterbury has wished Prince William and Kate Middleton the "courage and clarity" he says they will need to get married in the public eye.
Rowan Williams said the couple were fully aware of the potential costs of tying the knot in so public a manner.
In a video message filmed by Lambeth Palace, he also described them as "deeply unpretentious" and "sensible".
Meanwhile, the Queen has given her formal consent to the marriage under the historic Great Seal of the Realm.
She signed a notice of approval - in transcribed calligraphy - giving consent to the union, without which the marriage would be invalid.
William had to ask his grandmother's consent under the Royal Marriages Act 1772, which states that descendants of George II must have the monarch's agreement to make the marriage lawful.
Rowan Williams said of the couple: "William and Catherine are making this commitment very much in the public eye and they're sensible, realistic young people.
"They know what the cost of that might be. They've thought that through. And because of that they will need the support, the solidarity and the prayers of all those who are watching today."
He said he wished them "every richest blessing in their life together" and the "courage and clarity they'll need to live out this big commitment in the full glare - to live it out for the rest of us".
Earlier, the Queen held the traditional Royal Maundy Service at Westminster Abbey, giving money to 85 women and 85 men.
It is the same venue where William and Kate will marry on 29 April, and gave choristers, clergy and broadcasters a chance to prepare for the big day.