Royal wedding: Increase in street party road closures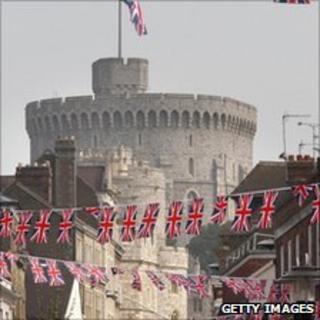 Councils have seen a late increase in applications for road closures ahead of royal wedding street parties, it has been revealed.
The Local Government Association (LGA) said about 5,500 road closure requests had now been received, compared to 4,000 three weeks ago.
Hertfordshire tops the list with 298 requests, with Surrey second at 205.
But parts of the UK seem unmoved - Glasgow, for example, has not had a single application.
London's boroughs have dealt with more than 800 road closure requests, while Cardiff has approved 53 and Bristol 54. Newcastle has had 32 applications, but in nearby Sunderland there have been only four.
The LGA said councils also knew of thousands of parties, such as those in cul-de-sacs, which did not need permission.
Last week Prime Minister David Cameron urged people to "go ahead" and organise street parties to celebrate the marriage of Prince William and Kate Middleton on 29 April.
'All the stops'
His comments followed the publication of figures which showed only 4,000 applications for road closures had been received by councils in England and Wales.
Chris White, chairman of the LGA, said: "Councils across the country have pulled out all the stops to make organising royal wedding street parties as easy as possible.
"The occasion has really enthused residents in some areas and it's been no easy task for council staff to manage all the differing requests, but it's work they're more than happy to do.
"Bringing communities together in these tough times can only be a good thing, and it's something councils see as one of their key roles."
He said straightforward guidance and simple application forms had been readily available and some councils had given out grants to help communities mark the occasion.
The government had stressed that its updated guidance to councils had "relaxed rules" and cut red tape which could stop people holding parties.
'Bonkers rules'
Local government minister Grant Shapps said this week: "We've made clear that the bonkers health and safety rules that can prevent simple celebrations taking place need not apply to royal wedding parties - far from it, they can be set up with the minimum of fuss and almost no form-filling."
Communities Secretary Ed Pickles had said residents must be safe "but common sense has to prevail and people should use their rights as citizens and challenge councils if red tape rules are being used against them".
Mr White said councils had had to shoulder repeated claims that they had been "overly bureaucratic", but the vast majority of these claims were "totally erroneous and ill-founded".
The LGA said most of the 5,500 applications had been approved.
As well as street parties, celebrations are to take place in pubs, gardens and homes across the UK.