Newspaper review: Easter sun and smog fill the papers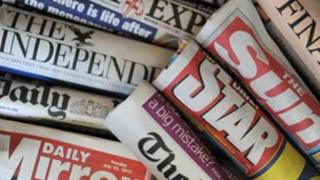 All the papers bask in the prospect of a sunny Easter bank holiday weekend - as well as reporting the government's smog warning for England and Wales.
The Independent calls it "the lung weekend" because high air pollution poses a risk to people with respiratory problems, such as asthma.
"Britain's on Killer Smog Alert" is the Daily Express front page headline.
The Daily Mail has pictures of a sunny beach in Wales, and deserted sun beds in the Spanish resort of Marbella.
Price-fixing
Plans to use missile-firing drones to target Colonel Gaddafi's forces in Libya are discussed in the Guardian..
The paper says the Predator drones have high-resolution night cameras that could help Nato to pinpoint targets.
The Daily Telegraph says the Office of Fair Trading has started an investigation into a suspected hotel price-fixing scandal.
The paper has seen documents alleging that hotels have ordered travel agents not to offer discounted rooms.
Adenoids out?
"Red Ed is dead" is the Sun's headline about an interview with Ed Miliband.
The Labour leader says the party "lost touch" on key issues and "did not spend every pound wisely" while in charge.
The paper says Mr Miliband is trying to dump his left-wing image and win back Sun readers who deserted Labour in droves at the last election.
According to the Daily Mirror, Mr Miliband is having his adenoids removed "to improve his voice and help turn him into an election winner".
Right to wine
French riot police are up in arms over a ban on them washing down their lunch with a glass or two of wine, reports the The Times.
It says the issue is sensitive because enjoying the national drink with lunch is seen as a fundamental right by most French people.
Finally, "Kate won't obey Wills" is the Daily Mirror's exclusive headline.
The paper says Kate Middleton will follow Princess Diana's lead and drop the word "obey" from her wedding vows.