Newspaper review: David Cameron comments considered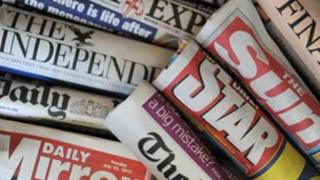 The Daily Telegraph believes David Cameron's comments to the paper will undermine his deputy Nick Clegg.
Mr Cameron said it is acceptable for middle-class families to exploit their connections to arrange internships.
The Telegraph reminds its readers Mr Clegg has "condemned" the practice as a major force holding back youngsters.
Independent political editor Andrew Grice writes that fear of losing the AV poll has persuaded Mr Cameron to drop any agreement he had with Mr Clegg.
'Shameful' verdict
The Times, in its leader, has strong words for councils in England about adoption, following a series of reports in the paper this week.
It says many local authorities have "lost their way", with 64,000 children in care but only 3,200 of them being adopted last year.
"Shameful" is the verdict of the Times.
It says it is time for councils to accept that a youngster cannot hope to return to their birth family if it is dysfunctional or dangerous.
'Revolutionary jab'
Both the Daily Mail and Daily Express hold out hope that the onset of Alzheimer's disease can be stopped.
The Mail says a "revolutionary jab" is being developed by three drug companies and has been proven to halt or even reverse the damage Alzheimer's causes.
The paper understands the vaccine could be available within two years.
The Express reports that scientists believe shining a special light on to the brain could reveal who is in the early stages of Alzheimer's.
Mobility scooter
According to the Daily Telegraph, Prince William will not let married life get in the way of his determination to serve in Afghanistan.
The paper understands the prince will put in a fresh request for a tour of duty either next year or in 2013.
The 85-year-old boss of Playboy, Hugh Hefner, is pictured in several papers at Disneyland - on a mobility scooter.
Accompanied by two Playboy bunnies, the Daily Mail says there was more than a "hint of Benny Hill" about the scene.