Newspaper review: Papers dominated by royal wedding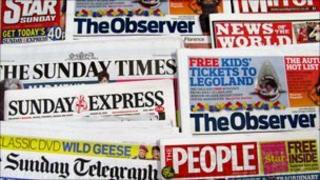 The royal wedding is a focal point for many of the newspapers.
The Sunday Telegraph is reporting that two billion people are expected to watch the royal wedding.
The paper says "ceremonies of this magnitude are positively drenched in politics" and "drop a dauntingly heavy payload of political symbols, messages about the social fabric, hierarchy, class, manners and our collective optimism".
The Sunday Mirror says "no royal wedding can be ordinary", but it prefers to focus on the relationship at its heart; "a perfectly decent, thoughtful young couple who think about others".
The Observer says the wedding is "the most important royal ceremonial occasion until the Queen's reign ends". The paper then goes on to call for reform, saying state the monarchy should be abolished and that the British people should elect their head of state.
Meanwhile, the People is showing a rather different picture of Prince William - he's clad in just his boxer-shorts and feather boas, and cavorting on stage at a friend's birthday party.
Social mobility
The Independent on Sunday is debating the chances people have of "escaping the poverty in which they are born". "Social mobility has stalled," it declares, and it says that is "unforgivable".
And again, sticking to the royal wedding theme, the Mail on Sunday says Kate Middleton is on her way to becoming "our first indisputably middle-class Queen" - a true example of social mobility.
It thinks that her "success shows that families who possess sufficient guile, talent, charm and determination can migrate from penniless obscurity to the heart of the world's most famous royal family in the space of a few generations".
Private lives
Another subject dominating the Sunday papers in the row surrounding celebrities who seek legal orders to block coverage of their private lives.
The News of the World stands up for what it calls "a proud tradition of fighting to expose hypocrites". The paper argues that the developing use of "super-injunctions" means that it may not, in future, be able to reveal "lies, cheating and double standards among the rich and powerful".
But the Sunday Telegraph wonders whether legal attempts to keep things private has backfired, reviving a public appetite for scandal and, with the internet often helping to provide missing scraps of information, convincing the rest of the world "that we're nuts".
Easter eggs
Easter means - among other things - eggs, and the cartoonists do not let the opportunity pass.
The Telegraph and Observer both see the three main party leaders as chocolate ones, and both show Liberal Democrat leader Nick Clegg as melting.
Gerald Scarfe in the Sunday Times sees the three men as chickens, trying to hatch the eggs they sit on. It is the referendum on the alternative vote that he is thinking of, and Labour leader Ed Miliband, looking suitably pained, is saying: "I think mine may be scrambled."