Foreign Office strongly urges Britons to leave Syria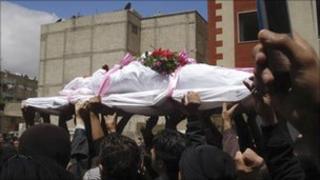 British citizens are being urged to leave Syria unless they have a "pressing need to remain" there, following weeks of unrest.
The Foreign Office "strongly advises" Britons to leave because of the "rapid deterioration" in law and order.
It says the British Embassy may not be able to provide normal consular assistance if the situation worsens.
At least 100 people have died in the last two days of protests against the rule of President Bashar al-Assad.
'Better way'
The Foreign Office advised British nationals to leave the country while commercial airlines were still flying.
Earlier this week, the UK advised Britons to consider leaving Syria but has now stepped up the warning. It also advises against all travel to the country.
The Foreign Office is urging Britons in Syria to register with the internet-based LOCATE system, which allows embassies to keep track of citizens in the country in case of emergency - so far about 500 people have done so.
Foreign Secretary William Hague told the BBC's Andrew Marr Show he was concerned that, if the turmoil continued, Britons might not be able to get out of Syria "at all".
He said the Syrian government had provided "inadequate reaction" in terms of democratic reforms and "over-reaction" in terms of their repression of protests.
"I hope we can persuade them that there is a better way than what they are doing now," he said.
A crackdown on Syrian protesters on Friday, which came a day after Mr Assad scrapped decades of emergency rule, drew strong international condemnation.
Nearly 300 people have reportedly died in weeks of unrest against the government of Mr Assad, who took over after the death of his father, Hafez al-Assad, in 2000.