Newspaper review: Papers focus on bitter AV row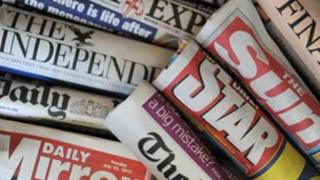 In the words of the Daily Mirror, David Cameron, Nick Clegg, and their two tribes, are now fighting "like ferrets" in a sack.
The Daily Express highlights what it calls the "warlike" language adopted by senior Lib Dems over the weekend.
The Daily Telegraph believes the increasingly bitter spat over electoral reform could undermine the future stability of the coalition.
The Independent says strained relations in the coalition reached a new low.
Campaign tactics
A note of scepticism is introduced by the Daily Mail to the fighting in the electoral referendum campaign.
It suggests the row over tactics used by the No to AV campaign may have been "confected" by the Liberal Democrats to boost grassroots morale.
However, Jackie Ashley in the Guardian disagrees.
"The Lib Dem anger about the Tories isn't feigned. You can hear it, feel it, taste it and touch it. They seem to be at breaking point," she writes.
High price
The Times carries a graphic eyewitness account of what it calls the "overwhelming destruction" in the western Libyan city of Misrata.
The price paid for this victory by the rebel militia has been high, it says.
Continuing anti-government protests in Syria are the focus for the Guardian, which says many activists believe the country has reached a "turning point".
The Financial Times agrees that a negotiated settlement of reforms looks increasingly unlikely.
Luxury goods
The Times leads with news that private companies are to step in to run failing universities, which will no longer be able to look to the government.
One private provider, BPP, tells the paper it believes it could cut costs by a quarter in some areas.
Cost-cutting is the last thing on the mind of the Daily Telegraph.
The paper reveals executives from the Audit Commission spent almost £20,000 of public money over the past two years on luxury goods and services.