Newspaper review: Papers focus on latest Wikileaks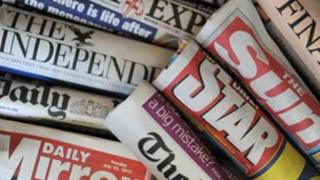 Many papers reflect on the latest batch of secret documents released by WikiLeaks, giving details of hundreds of prisoners at Guantanamo Bay.
The Daily Mail says while some inmates undoubtedly are extremely dangerous, many appear to have been innocent.
The Daily Telegraph focuses on what it calls the key role Britain and British-based preachers played in some lives.
At least 35 were radicalised in London before being sent to fight against allied forces in Afghanistan, it says.
Jail break-out
For the Independent, the documents make it clear several hundred men were incarcerated for years on evidence that would never have stood up in a court.
The jail break-out in Kandahar, Afghanistan - in which 500 Taleban militants escaped - also features.
The Guardian says the break-out rivals anything pulled off by British Prisoners of War in the infamous Stalag Luft III German camp.
For the Sun, it sounds a bit like the plot of Carry On Prison Camping.
AV row
As the political temperature over the referendum on changing the election voting system rises, the Financial Times comes out in favour of AV.
It says first-past-the-post offers a simple choice, but in an era of multi-party politics, is less representative.
AV is also more sympathetic to smaller parties, it adds.
In the Independent, former Business Secretary Lord Mandelson accuses David Cameron of turning the campaign into a bitter row to mobilise Tory support.
Wedding forecast
Finally, coverage of the royal wedding focuses on the threat of showers for the big day.
The Mail asks: "Will Kate arrive at Westminster Abbey beneath a brolly?"
The Daily Express says showers might not be all bad news as rain on your wedding day is supposed to be lucky.
Meanwhile, a spokesman at St James's Palace also looks on the optimistic side - telling the Telegraph: "The rain will only add to the Britishness of the occasion".