Profile: Andrew Marr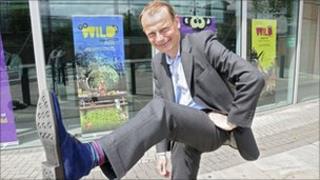 BBC presenter Andrew Marr has revealed he took out a super-injunction in 2008 to suppress reports of an affair with a fellow journalist.
Andrew Marr is the host of The Andrew Marr Show on BBC One, the Sunday morning interview programme which replaced Breakfast With Frost in 2005.
He moved to the programme after a five-year stint as Political Editor at BBC News.
Marr also presents BBC Radio 4's Start The Week on Monday mornings. He joined the programme in November 2002.
He also wrote and presented Andrew Marr's History Of Modern Britain on BBC Two, winning a string of awards including a Royal Television Society award for best historical programme.
Marr was born on 31 July 1959 in Glasgow, Scotland.
He attended Dundee High School, Craigflower School in Fife, and Loretto School in Musselburgh before reading English at Trinity Hall, Cambridge.
Moved to London
Marr joined The Scotsman as a trainee business reporter in 1981, became parliamentary correspondent in 1984 and political correspondent two years later.
He then went to work for two years at the Independent before returning to the Scotsman as political editor in 1986.
Marr moved to The Economist in 1988 and in 1992 went back to the Independent as chief political commentator.
Four years later he became editor of the Independent but his efforts to revamp the paper failed to stem a decline in sales and he was effectively sacked in 1998 after refusing to push through a round of redundancies.
But he bounced back as a newspaper columnist before being appointed the BBC's political editor in May 2000.
He pulled off a number of scoops but his demonstrative style received mixed reviews and he was mocked on the comedy show Dead Ringers, which portrayed him with huge plastic arms.
In September 2005 he replaced David Frost and was replaced by Nick Robinson.
But he was also given the opportunity to spread his wings as a television presenter and he followed up his History of Britain series in 2008 with Britain from Above, showing how the country's landscape had been affected by the Industrial Revolution and subsequent changes.
He has had five books published - The Battle For Scotland (1992); Ruling Britannia (1996); The Day Britain Died (2000); My Trade (2004) and A History Of Modern Britain (2007).
Marr lists his hobbies as reading, painting and cooking.