Newspaper review: Papers focus on Marr super-injunction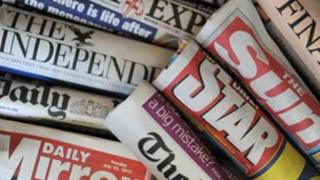 Andrew Marr's disclosure he is dropping a super-injunction to prevent the media reporting an affair prompts fresh comment about the balance between privacy and free speech in most papers.
For the Daily Mirror, the public's right to know should win every time.
The Daily Telegraph complains the courts are making up the law as they go along, with some judges pushing the boundaries much further than others.
In the Sun, a lawyer asks Parliament to consider where to draw the line.
Wedding pictures
"What now for the rich and famous who have bought anonymity?" asks the Independent, with a picture of Mr Marr and silhouettes of nine other people.
"Time to come clean, Sir Fred" says the Daily Mail, saying pressure is growing on the former head of Royal Bank of Scotland to drop his super-injunction.
The other main splash for many papers is a picture of Kate Middleton heading for her final wedding preparations.
"No reverse gear now for Kate", the Telegraph says.
Refugees
Several papers report hundreds of refugees from Tunisia and Libya are, as the Daily Star puts it, "laying siege" to Paris' Eurostar terminal.
The Daily Express says they have erected a ramshackle camp just a short walk from the Gard du Nord.
The fear is, the Daily Mail says, that they will head for Britain.
Who can blame them? the Star asks. It says Britain has, after all, backed the fall of regimes in countries such as Libya.
'Calculated snub'
Finally, the Mail strongly criticises the decision not to invite Tony Blair and Gordon Brown to the royal wedding.
It says excluding them, while inviting Lady Thatcher and Sir John Major, breaks every constitutional convention.
St James's Palace said Mr Blair and Mr Brown were left off the list because - unlike their predecessors at Number 10 - they are not Knights of the Garter.
For the Mail however, their exclusion is a "straightforward calculated snub" and a "shabby... deeply unwise step".