Royal wedding: Well-wishers gather outside the palace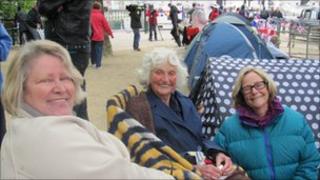 "It's like a mini-UN," says royal fan Tina Owens. "We're from all over the world, but we've become a community already."
Tina is one of the crowd of well-wishers growing by the minute outside Buckingham Palace.
She's come all the way from Melbourne, but the 30 hours of flying - and somewhat chilly temperatures in London - have done nothing to dent her excitement.
"This is number one on my bucket list - the things I want to do before I die," she says.
"As a child, I remember watching films of people waving flags outside the palace and I said to myself, one day I'll do that. And here I am, fulfilling a dream - and I'll be waving my flag like mad.
"I was terrified getting on the plane by myself, but when I got here I found friends on the other side of the ocean. Everyone's looking after each other.
"It's just wonderful. Your city has got a really, really big soul."
With less than 24 hours to go, the Mall is being gradually transformed into a camp site.
Tents are being set up and adorned with Union flags, sleeping bags and portable chairs unpacked.
Every second person seems to have a microphone or camera, but no matter how many times they are thrust into the faces of the spectators, they are happy to talk.
There are cranes holding aloft lights, satellite trucks with their dishes all pointed in one direction like flowers towards the sun, and a constant low hum from the mobile generators powering all that equipment.
It's a bit like a fun fair without any rides, or a music festival before the bands turn up.
Opposite the palace is a huge temporary block of studios - a big green building that looks like the love child of a giant bird hide and one of the stands at Wimbledon.
Television lights - and the very white teeth of perfectly coiffured news anchors - shine out from it.
Tracey Vause and her 14-year-old daughter Charlotte, have come down from Leeds just to catch a glimpse of it all - and Charlotte is in her element.
"I love watching all the media. I want to work in TV and it's so exciting seeing them all," she says.
Her mum adds: "I was here in 1981 for Charles and Diana and I remember all the bunting, the flowers.
"It was lovely, and I wanted my daughter to experience that."
Ivana Baldelli, from Ottawa, Canada, has picked her spot to watch tomorrow's events with surgical precision.
"I thought about Westminster Abbey, but the way it's physically set up, there's no real line of sight," the 69-year-old explains.
"So I settled on the palace and I've picked the right-hand side of this particular lamp-post. I've tested my photographs and I can get the balcony clearly.
"I checked out the other side of the lamp-post, but there's no railing in front to stand up on. I'm right-handed too so this suits me better. It's perfect and I'm going to hold onto it."
Ivana says she's met the Queen three times: "She's wonderful, she mesmerises me. So out of respect for her I thought I would come."
Ivana might be the most organised royal fan, but May Dalgleish could be the oldest.
The 84-year-old has travelled - alone - all the way from Auckland, New Zealand - and why not, she asks?
"I'm a royalist. I've come over for all the special royal occasions. I'm known as New Zealand's number one royal fan," she says.
"I think they are a lovely couple, very well-matched. She's beautiful and I think he'll do a good job for the country."
Sitting alongside May, tucking in her blankets and keeping her topped up with hot coffee, is Margaret Staunton, from Aldershot, - the unofficial "mother" of tent city.
On the royal couple, she says: "I think it's a true love match and about time too."
There is, perhaps, an over-representation of ladies aged 50 and above lining the Mall, but some royal fans are flying the flag for youth - and sartorial elegance.
Seb van der Molen, from Camden, north London, has come in black tie.
The 24-year-old says: "Well, it's a fantastic occasion.
"It's only going to happen once or twice on one's lifetime. And Britain is the home of pomp, pageantry and all things special, so why not embrace it.
"I've got my four flatmates all joining me later in full black tie, so if William happens to find a few spare tickets, we're ready and properly dressed for the occasion."