Royal wedding: Big day arrives for crowd of thousands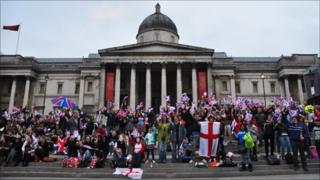 It's here. The big day.
This is a royal wedding for a new generation, embracing YouTube, Twitter and Facebook. The nuptials of Prince William and Catherine Middleton can be followed on every imaginable media platform.
But for thousands of people who are lining the procession route in London there's clearly no substitute for the "old school" way of simply turning up to watch.
"It would be sad to be at home seeing it on your own," says one spectator.
Just after sunrise the streets were already bustling - some wedding-watchers had been there all night, others were stepping bleary-eyed from buses, trains and cabs, clutching coffees and shivering. London was waking up to the day ahead.
Royal paraphernalia
On the Strand, a flock of uniformed St John Ambulance workers on bikes readied themselves, pointing towards Westminster.
On the approach to Trafalgar Square, flag vendors waved their wares, while stall-holders unpacked boxes and boxes of royal paraphernalia, surely hoping for a bumper day of business.
The square itself was almost unrecognisable. Marquees, food outlets and media stands filled each corner, and a giant screen nestled between two of the square's famous lions. Below it a sign read "London [hearts] Will and Kate".
Among the growing crowd were Jules Rocks, from Peckham Rye in south-east London, and her 13-year-old niece Shannon. They'd been there all night and were freezing cold.
"I did a recce on Wednesday and was told to get here early. We've been here since 11pm last night, but they wouldn't let us sleep in the square so we went to a green and laid down.
"When [Princess] Diana died I camped out for the funeral. I felt for Wills then and I've always followed the boys," says Jules.
Big screen
Sitting a few rows down are London-based New Zealanders Salam and Yasmine Bassili, and Sarah Lukins. Decked out in wedding hats, smart dresses and jackets, they are taking the event seriously.
They look slightly eerie as they don Prince Harry, Camilla and Queen face masks. Yasmine has devised a themed quiz for her companions, and displays an encyclopaedic knowledge of royal marriages.
They stopped off at the Mall at 0400 BST, but decided to move to an area where they could watch everything on a big screen.
"We had to make that call. It was torture having to decide, and we're still not sure we have made the right decision," says Salam.
"There's nothing like atmosphere. If you can be here why would you stay at home?" says Yasmine, who works in banking.
"I've been taking a lot of mockery at work for my excitement about the wedding, and my bunting and everything. But as it got closer they were all suddenly getting into it and asking me for tips."
Salam says she has been "dreaming" about Kate's dress, and an excitable debate ensues about the expected outfits of the bride, bride's mother, the Duchess of Cornwall and the Queen.
"We all want Kate to wear [Alexander] McQueen but she's not fashion-forward enough. She's safe."
'A bit cheeky'
Down on the Mall, three young friends are kitted out in full-on wedding gowns. For them, perhaps not surprisingly, it's "all about Kate's dress".
"We think McQueen or Jasper Conran. Very elegant, not too big, maybe a fishtail style. She'll look gorgeous," says Georgia Sim, 24, from north London.
"And I'm thinking bridesmaids in midnight blue, to go with Kate's ring."
"A lot of today for us is about Kate's dress, we want to share her moment, which is maybe a bit cheeky," says friend Sophie Downes, also 24.
"One of our friends is actually at the wedding, she was really secretive about her outfit, we're so jealous," she adds.