Royal wedding: Tears and tiaras in crowd on The Mall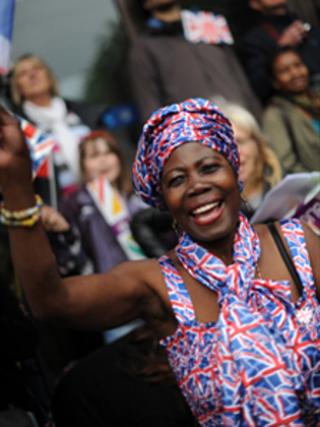 The prospect of the fairytale princess moment, that balcony kiss, brought the crowds surging into The Mall.
The first was brief. Many blinked and missed it. The crowd chanted: "Kiss her again! Kiss her again!"
A few minutes later the newlyweds obliged, and the throng erupted.
They had waited patiently, some for days, to see what they could of the biggest royal wedding since the groom's parents, Charles and Diana, married in 1981.
As the real festivities got under way for the Royal Family and their friends and guests, the crowds in central London began to file away, exhausted.
'So beautiful'
Lindi Fairweather and Sandy Benkenstein hugged as William and Catherine left the balcony. Tears were running down their cheeks.
"We haven't stopped crying. It was just so beautiful," says Lindi, from Pretoria in South Africa.
"We've been here at this spot since 3.30am. We've had two days in London, and it's been a dream. We were so in love with [Princess] Diana. We decided to come because we'd never have a chance to see the heir to the throne married again."
And, like many, they almost missed what they had been waiting for. "We missed the first kiss! But it was a nice long one the second time."
The whole balcony scene was "not long enough," says Sandy, but they still believed every second was worth the wait.
"We wouldn't have missed this for the world. We are born and bred royalists, I'm afraid."
Periscopes
Earlier, as the marriage ceremony was approaching, it had already been a long day for the wedding party and public alike.
As the crowds grew there was near gridlock in some parts. Well-wishers clutched cardboard periscopes to catch a glimpse of a frock, the edge of a hat rim. Cameras, iPads and phones were held aloft and used to view the proceedings retrospectively.
As the wedding party began leaving Buckingham Palace for the abbey, waves of sound would travel up The Mall, building into cheers and claps, and shouts like, "it's the Queen, in yellow!"
Watches were checked, and checked again, as the time approached for the bride to pass by. "She's there, this is it, I can see a full veil and lace," exclaimed a man to his wife, from their position on a ladder.
The ladder had been a last-minute plan - they had dashed home to their flat in Victoria to get it once they realised they had no hope of seeing anything from the back of the crowd on The Mall.
An old naval colleague of Prince Charles, who had been an usher at his wedding to Diana, he didn't want to be named. What happened to their invite for this wedding? "Us? We're the wrong generation now."
As the wedding ceremony was played out through speakers, the sun finally burned through the damp and bone-chilling clouds. People laid out picnics and listened.
St James's Park, lined with food outlets and "Royal Wedding Gin & Tonic" stands, was like the scene of a mildly boozy music festival.
At each important moment - the "I wills", the man and wife pronouncement - there was a cheer.
Popular puppy
It was a people-watcher's paradise. Outfit after outfit passed down The Mall as the crowds milled around. There were people in wedding gowns, cocktail wear, fascinators, tiaras, crowns and every type of union jack regalia imaginable.
Ten-week old Eurasier puppy Rogue donned a union jack neckerchief for the occasion.
Breeders Olwen and Stacey Watkins had brought Olwen's three daughters to give them an experience they wouldn't forget. Fellow spectators flocked around the dog, who had posed happily for photos all day.
"She's been really good. All the policeman have been asking to hold her. The atmosphere has been really nice. I've never been to anything like this before," says Olwen.
The ceremony over, the crowd thickened further on The Mall as thousands strained to get a glimpse of the returning couple, now the Duke and Duchess of Cambridge.
Allison and Shawn Benton, from Kansas, were excited they had managed to capture some video of Catherine's return.
"This is our first time in London. We got lucky," she says.
Before long the surge towards The Mall began. Tempers frayed, just a little, as everyone jostled for position.
The balcony moment came, then the "ooh" and "aah" of the flypast, and it was over.
As some people shuffled away, one group of women - from Australia, New Zealand, Switzerland and Greece - were determined, it seems, to keep their fairytale princess dreams alive.
All donning t-shirts that read "we're not worried… Harry's still available," they got ready to leave, after a night camping out. And as they did so, one added: "Harry seems like the fun one anyway."