Newspaper review: Tributes to two sporting legends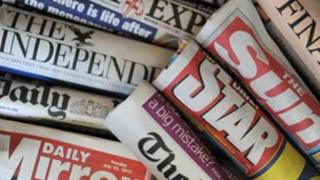 The news of Osama bin Laden's death came too late for the papers. Instead they are full of warm tributes to the boxing champion, Sir Henry Cooper, who has died at the age of 76.
The Times columnist, Simon Barnes, says Sir Henry was never one of the gods of sport - but more like one of us.
The Daily Mail calls him a "truly gentle giant" whose career unfortunately provided proof of the toughest old adage in sport: that nice guys tend to come second.
But the Daily Mirror calls "our 'Enery" one of Britain's greatest who "was loved by a nation".
Also remembered with affection is the snooker commentator "Whispering" Ted Lowe.
The Sun is one of several papers to recall one of his most famous gaffes in the commentary box. At a time when not all homes had colour television sets, he said: "For those of you watching in black and white, the pink is next to the green."
'Hysterical language'
The Guardian leads on the row about the AV referendum. It has an interview in which the Lib Dem Energy Secretary, Chris Huhne, accuses the Conservatives of a "shortsighted" attempt to "trash" Nick Clegg's leadership. The paper believes his comments expose deep anger among Liberal Democrats.
But the Daily Express argues that the "increasingly hysterical language" used by senior Lib Dems in the debate on electoral change is a clear indication of panic.
The Daily Telegraph reports that one of the most historic names in Navy history, HMS Ark Royal, will pass to a new aircraft carrier. It is understood that Prince Charles has agreed to allow its replacement, HMS Prince of Wales, to be renamed Ark Royal.
The Independent and its sister paper the 'I' lead with the attack on the British embassy in Tripoli, in revenge for the reported killing of one of Colonel Gaddafi's sons in a Nato air strike.
The paper takes the view that targeted assassinations are a strategic mistake. But the Telegraph believes that Colonel Gaddafi and his entourage have become legitimate targets.
Three days after the royal wedding, the appetite for stories about the newly married couple appears as strong as ever.
"Kate nifty at being thrifty" is a headline in the Express, which has discovered that after dazzling the world in a designer wedding gown, the Duchess of Cambridge was pictured the following day in a simple dress which cost less than £50.