Medical body investigates G20 pathologist Freddy Patel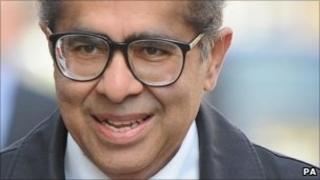 An investigation has been launched into the pathologist who concluded newspaper seller Ian Tomlinson died of natural causes, the BBC has learned.
The General Medical Council is investigating Dr Freddy Patel's work on the case which resulted in an "unlawful killing" verdict earlier this week.
Dr Patel found Mr Tomlinson died of a heart attack due to coronary artery disease after the 2009 G20 protest.
At the inquest six experts said that he was wrong and blamed internal bleeding.
The jury concluded on Tuesday that the bleeding had been caused by a blow to the abdomen when Mr Tomlinson was pushed to the ground by PC Simon Harwood.
It is thought the GMC began its investigation after receiving a complaint from Mr Tomlinson's family.
Dr Patel is currently serving a four-month suspension from pathological work after the GMC found his fitness to practice was "impaired", following a sub-standard autopsy on a murder victim and his acting dishonestly by falsifying his CV.
Last year, the pathologist was given a three-month ban for failings in post-mortem examination work in three earlier cases.
The GMC said it could not confirm officially whether an investigation was under way because of issues of "confidentiality".