Newspaper review: Nick Clegg's NHS pledge fills papers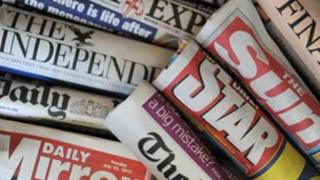 Nick Clegg's threat to block proposed changes to the NHS in England is widely debated in the papers.
The Guardian says the re-organisation is the immediate must-win battleground for Lib Dem credibility.
The Daily Mail thinks it might be right for David Cameron to make changes or go back to the drawing board.
But the Daily Telegraph believes the PM should use Mr Clegg's political weakness to ensure the broad thrust of the reforms are now carried through.
Injunctions
The naming on Twitter of celebrities alleged to have taken out "super-injunctions" is the Mail's lead.
It says the move exposes the total inadequacy of court rulings that gag the press - but have no effective control over what is published online.
The Sun continues its serialisation of Kate McCann's book on the disappearance of her daughter Madeleine in 2007.
In the extracts, she reveals her "frustration and anger" after the first day of the police inquiry.
Greece bail-out
The main story for the Times is that police forces are sacking 160 officers every year after misconduct hearings held behind closed doors.
It says many of the accused are suspended on full pay, or placed on restricted duties, for long periods at an estimated cost of £2.7m a year.
Plans for a new bail-out package for Greece make the lead for the Financial Times and the Daily Express.
The Express has the headline: "£15 billion scandal as Greeks beg again".
Royal rescue
Finally, a judge who watched the royal wedding on TV was surprised to be rescued by the Duke of Cambridge after suffering a heart attack in Snowdonia.
According to the Mail, Nick Barnett was airlifted to hospital by an RAF Sea King helicopter crew that included Prince William.
Mr Barnett, from West Sussex, says he had joked about the possibility of being rescued by the prince.
"Family and friends are all stunned by who saved me", he tells the paper.