Newspaper review: Papers reflect on Lords' rebellion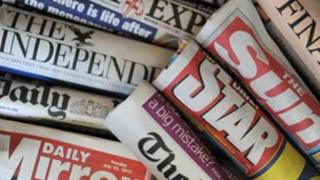 The Guardian leads with the rebellion by Liberal Democrat peers which helped defeat the government's plans for directly elected police commissioners.
The paper describes it as an apparent show of the "muscular Liberalism" that deputy PM Nick Clegg had promised would mark a new phase in the coalition.
The Daily Mirror sees it as a major setback for David Cameron because the idea was one of his flagship plans.
For the Times, it was an ominous sign for the cohesiveness of the coalition.
Return date
Former Lib Dem minister David Laws is said to be facing a seven-day Commons ban for breaching expenses rules.
The Times considers whether he will be able rejoin the government.
The paper argues Mr Laws must be seen to pay the price, although it prefers to err on the side of leniency when it comes to setting a date for his return.
The Daily Telegraph thinks the severity of his punishment rules out an early return and suggests he should spend the next four years on the backbenches.
Financial speculation
The latest inflation forecast from the governor of the Bank of England, Mervyn King, prompts much speculation about interest rates.
The Financial Times interprets the governor's comments as a signal that an increase is likely to come this year.
The Daily Mail is convinced such a move is imminent, while the Sun and the Daily Telegraph both predict it will happen in November.
In contrast, the Guardian thinks a rise this year is not a certainty.
Parents' plea
The front page of the Sun is devoted to an open letter from Kate and Gerry McCann to David Cameron.
They appeal for an independent review of all the information relating to the disappearance of their daughter Madeleine in Portugal four years ago.
The paper expresses concern that no-one is looking for Madeleine apart from detectives hired by her parents.
The Sun urges the prime minister to put pressure on Portugal to co-operate with a wide-ranging review.