Newspaper review: Look ahead to Queen's Ireland visit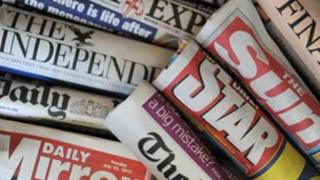 Many papers take a look ahead to the Queen's visit to Ireland next week.
The Guardian makes the point that she has visited 129 countries during her reign but has never set foot in Britain's nearest neighbour.
The Daily Telegraph says it was the end of the conflict in Northern Ireland that has made the visit possible.
But there are security concerns and the main story for the Times is that an arms plot by dissident republicans has led to a reassessment of policing.
Debt rescue
There is a glance at strong economic growth in Germany and France with the Financial Times lead saying they are "casting a shadow over Britain".
The Daily Mirror says the UK is stuck in the slow lane and wants the chancellor to reconsider spending cuts.
In the Sun's view, the way to speed up recovery is by cutting taxes, bureaucracy and state spending.
The Daily Mail suggests eurozone nations should rescue debt-ridden members without demanding British cash.
Sizzling summer?
Staying with money matters, the Daily Telegraph says the Royal Mail is to get a state-backed cash injection, a move that could delay its privatisation.
The Daily Mail's top story is on an early warning test for Alzheimer's developed by scientists at Oxford University that can be taken online in 15 minutes.
The Daily Express says there is a "super summer" ahead with temperatures in most of the UK rarely falling below 21C for the whole of June and July.
The Independent looks at government plans to extract shale gas and says they will be an environmental disaster.
Virtual zoo
Finally, a first class passenger was arrested at Bangkok airport on Friday after he allegedly tried to smuggle out four leopards, two panthers, two monkeys and an Asiatic black bear.
The Times says the animals had been drugged and packed in check-in luggage - although one suitcase had been abandoned, apparently because the animal inside was making noises.
The Daily Mirror says the animals were just weeks old while the Sun quotes a witness as saying: "The guy had a virtual zoo in his suitcases."