London 2012: Torch relay stops to be unveiled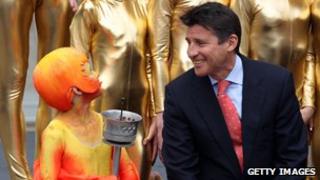 The organisers of the London 2012 Olympic Games are to announce later some of the places around the UK where the torch relay will visit next year.
The flame will arrive from Greece on 18 May, 2012, and will be carried by 8,000 torchbearers before being taken to the Olympic Stadium in London on 27 July.
The announcement at 0730 BST will set out the overnight stops and a number of other places it will take in.
The organisers plan to publicise further route details later this year.
They say that the torch will come within a one-hour journey of 95% of people in the UK.
Thousands of people will attend shows and concerts staged at each stop during the 70-day relay.
The torch relay became part of the Olympics at the 1936 Berlin Games and since then has grown into a popular curtain-raiser to the sporting events.
The Games were held in London 12 years later, in 1948, when the torch was made of stainless steel and was lit with a magnesium candle.
The 2012 torch is being designed by east London-based Edward Barber and Jay Osgerby, whose work is expected to be unveiled next month.
The origins of the Olympic torch relay go back to ancient Greece, when messengers were sent out from Olympia to announce the competition dates and call for a halt to all combat operations during the Games.
For the modern-day Olympic Games, the flame is lit in Olympia from the sun's rays using a parabolic mirror and then taken on a relay around Greece.
Unlike some previous relays, the 2012 torch will not go round the world.
At the end of the Greek leg, the flame will travel to the UK.