Newspaper review: Papers hail Queen's Ireland visit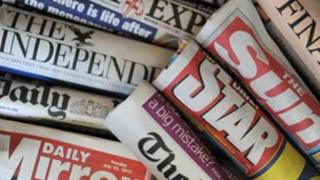 When the poet Yeats wrote about the Easter uprising in 1916, he judged that the rebels had been "changed utterly" by that traumatic event.
Those words are used by the Guardian to describe Ireland, and Britain, today.
The paper sees the Queen's visit to be "a powerful and proper attempt" to show the two states recognise there is "no transcending quarrel between them".
For the Daily Express it is "a massive step forward for relations between the peoples of the British Isles".
New era
For the Daily Telegraph, the Queen's decision to arrive in Ireland dressed in green was an obvious one.
To the Daily Mail, it was her way of proclaiming "a new era in the history of these islands".
The Independent says her mission is "to sweep away the cobwebs of history which have for so long bedevilled relations between the two countries".
The Daily Star dismisses those who took to the streets in protest as "yobs" who are "out of touch".
Slapped down
Opinion remains divided about whether it is better to spend scarce resources on defence or overseas aid.
The Daily Express says Defence Secretary Liam Fox has been slapped down for suggesting the armed forces should take priority.
The Times believes his view has strong support of senior military figures.
The Daily Mail argues that much of the money ends up "in the Swiss bank accounts of third world dictators while we're making huge sacrifices at home".
Eccentric side
The "colourful" life of the Earl of Onslow, who has died at the age of 73, is remembered by the Daily Telegraph.
He once chased a bullock down the A3 on horseback and when he started work in the City as a young man he lost his pet monkey at a Tube station, it recalls.
He was also a "conscientious" member of the House of Lords, says the Times.
And he introduced BBC Radio 3 listeners to rap, ambient house, acid jazz and thrash metal with the words: "It's time to get trippin', with me, Lord Onslow."