Control order suspect relocated over firearms plan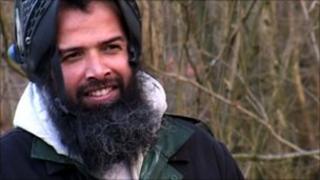 A terrorism suspect was lawfully moved from London after fears he wanted to get a firearm, the High Court has said.
The man, known only as CD, is on a control order and described as a leading member of a network of Islamist extremists in the north of the capital.
The court heard he received terror training in the Lake District with the men behind the 21 July 2005 bomb plot.
Mr Justice Simon said moving CD to the midlands had been necessary to protect the public.
That decision to move CD to the undisclosed city came shortly after the coalition government pledged to reform control orders by dropping the power to relocate people.
The judgement says that the dual British-Nigerian national was served with a control order in February this year and told he would be relocated northwards.
His wife and two children remained in London. A control order restricts a suspect's movements in cases where police say they cannot charge the individual with an offence.
The court heard that CD had joined a Cumbria training camp in 2004 organised by Mohammed Hamid, a well-known radical preacher, who was jailed in 2008.
Among those at the camp were the four men behind the failed suicide bombings of London on 21 July 2005.
CD later left the UK for Syria where he allegedly received extremist training before returning in April 2009.
Lisa Giovannetti QC, for the Home Secretary, said CD had made several attempts to obtain firearms from London criminals after his return to the UK.
He had also held covert meetings with two separate associates. The security service assessed that the trio were trying to develop attack plans.
But CD appealed against his control order, saying that the relocation had a "devastating" psychological and physical effect on him.
John Burton QC, for the suspect, said his client had not denied his association with Mohammed Hamid - but he had never been arrested or charged in relation to attending the same 2004 camp at the 21/7 bombers. Furthermore, he had not sought to conceal his extreme views.
But rejecting CD's appeal, Mr Justice Simon said: "There is evidence which supports the conclusion that CD has a background and training which would lead to a justifiably held fear that he would engage in terrorist-related activity based on his strongly held Islamist views."
"Since his return [from Syria] he has endeavoured to obtain firearms on a number of occasions from a number of associates for the purposes of putting into effect a planned terrorist attack, has held covert meetings with associates in relation to plans to use the firearms as part of his planned attack and has displayed a very high level of security awareness."
All these factors taken together, said the judge, meant that relocating CD could be justified.