Childcare cuts threaten welfare reform - think tank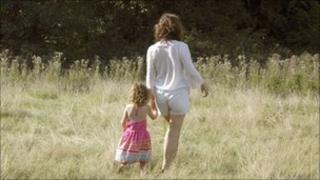 David Cameron's vow to make work pay could be "shattered" by cuts to childcare support, a think tank says.
Changes to childcare tax credits, due to come into force in 2013, could leave some parents losing 94p for every extra pound they earn, the Resolution Foundation said in a report.
Mr Cameron promised to end the "injustice" of low-paid lone parents losing out by working extra hours.
A government spokesman said the policy was still being worked out.
The planned changes to the benefits received by lone parents are part of the government's plan to replace Britain's complex benefit system with a single Universal Credit.
This flagship policy - broadly backed by Labour - is meant to end the "benefit trap" and make work pay for all.
Budget changes
In a speech to last year's Conservative Party conference, Mr Cameron said it would end "once and for all" the "injustice" of low-paid single mothers losing 96p in every extra pound they earned.
But the Resolution Foundation report, commissioned by lone-parent charity Gingerbread, cast doubt on this claim - and suggests the government will "fail" its own test on welfare reform by putting people off working.
A single parent on the minimum wage would earn £3 a week more if he or she decided to work four days a week rather than three, the report suggests.
Parents used to be reimbursed for up to 80% of £300 a week for childcare costs - so they could recoup up to £240 for two or more children, depending on their income.
But changes in March's Budget brought this down to 70% - so the most they are now entitled to is £210 a week.
The Resolution Foundation report says the government is considering two options under the Universal Credit that would further reduce childcare support.
The first would mean parents could claim no more than £150.50 a week - the second would give them back just £136.
'Knocked down'
Mother-of-four Karen Millar, from Mansfield in Nottinghamshire, says she and her partner Darren both work full time to support their family and claim child tax credits.
She said: "There have been times when we've just thought one of us is going to have to give up work because the cost of childcare can take up to half your salary.
"It feels like we've been knocked down a bit, back to 'man goes out to earn and women stay at home'."
The Organisation for Economic Co-operation and Development (OECD) has said the UK has some of the most expensive childcare among developed countries, costing an average of 68% of the family's second wage.
Resolution Foundation chief executive Gavin Kelly said: "Living standards are already severely squeezed and this would be a further hammer-blow to working families."
'Squeezing childcare'
But the government insisted it would "match the same amount of spending on childcare as in the current system".
A Department of Work and Pensions spokesman said: "We are looking at how best this support can be allocated to individuals to ensure that parents have an incentive to work, whilst targeting support at those most in need.
"We have been taking time to consider this issue carefully, and have been working closely with relevant organisations, like Gingerbread, on the rate at which childcare will be paid and the way this support will be delivered."
But shadow work and pensions minister Stephen Timms, for Labour, said: "You would have thought that the government would be making it easier for parents to work and pay tax so that we can get the deficit down.
"Squeezing childcare support when costs are rising will do nothing to make work pay and could make people very reluctant to take a job."