Empty homes to be demolished 'hidden from figures'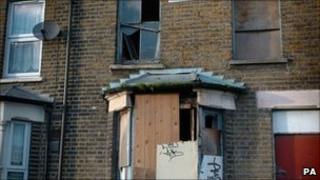 Around 12,000 empty homes are hidden from official figures because they are earmarked for demolition, a campaigning group has found.
The Empty Homes Agency, which discovered the numbers using a freedom of information request, is holding a conference to talk about ways of tackling the dozens of estates around the UK which are boarded up.
Chief executive David Ireland told Radio 4's You and Yours programme it was time to find innovative ways to tackle the problem.
"We looked at 20 local authorities where we knew there were issues," he said.
"We were surprised to find the figure so high. There's a big undiscovered problem here which we have to address."
Official figures show more than 700,000 are empty but those due to be knocked down are not included - even though some have been empty for a decade.
Many were earmarked for demolition to build new social housing but the decline in the property market and cut in subsidies means schemes have been abandoned.
The government has made £100m available over the next three years for projects to revitalise empty homes.
Communities minister Andrew Stunnell said: "These properties are a magnet for squatters, vandalism and anti-social behaviour, a blight on neighbourhoods and a nightmare for neighbours. That's why we have brought in new incentives."
The new homes bonus, designed to encourage fresh building, can also be used to bring derelict homes back into use.
The council tax collected from those homes by local authorities will be matched by government funding for up to six years.
Mr Ireland believes the UK could learn from what is happening elsewhere in Europe.
He has enlisted Dutch architect Ineke Huselhof to look at empty estates in London. She worked on a scheme in Rotterdam, where the local authority bought an empty building and then gave the properties to young professionals on condition they paid for the renovation.
"The local government invested about 1.5m euros buying the estate," said Ms Huselhof.
"It had become a very bad area where drug dealers hung out. But everybody worked together to renovate it and now the flats have gone up in value by up to 40%."
In the UK, councils often have to pay to secure homes standing empty.
Southwark Council in London has paid £383,000 to board up 63 flats in London which have been empty for more than five years.
"The cost of doing nothing is high," said Mr Ireland.
"Councils often smash windows and break up toilets and basins to make flats squatter-proof. Instead of smashing up we need to think about doing up."
The full report was on You and Yours, BBC Radio 4, Monday 23 May, and is now available on iPlayer.