Major changes to investigation of missing children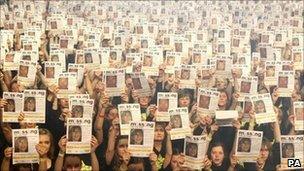 Child protection experts are to lead the hunt for the UK's missing children, the Home Office has announced.
It said from 1 July they would integrate with existing services to form one body - the Child Exploitation and Online Protection (Ceop) agency.
The new team will work with police, non-governmental organisations and the wider child protection community.
Martin Houghton-Brown, from the charity Missing People, said the changes would help safeguard vulnerable children.
He said he was delighted Ceop was joining front line services.
"Their expertise in safeguarding vulnerable children and extensive work in education will help to ensure the safety of thousands of young people," he said.
Minister for Crime and Security James Brokenshire said: "Around 230,000 missing children reports are made in the UK every year.
"The risks children are exposed to are severe and the harm they suffer can be very serious, so it is crucial we can act quickly."
The new agency will provide preventative support to children and adults through educational tools and aims to harness the expertise of the police and the private sector.
Lady Catherine Meyer, of the charity Parents and Abducted Children Together (Pact), also backed the move.
She told the BBC: "When a child goes missing it will have a much bigger chance to be exploited, get into drugs, prostitution, so the fact that you're moving missing, the issues of missing, into child exploitation is going to be very helpful - plus for the data collection."
Pact says the authorities have a more accurate idea of how many stray dogs there are than how many children are missing.
They say there are still no full official figures but it is estimated 140,000 children go missing in the UK every year.
Most of those are teenagers who have had rows with their parents or guardians but a significant number fall into the hands of criminals.
Lady Meyer thinks the changes could have helped in cases such as that of Madeleine McCann, who went missing aged three on holiday in Portugal in May 2007.
Ceop chief executive Peter Davies said: "We will work with children and parents to raise awareness of the risks and the options, and we will put into the hands of any investigation our collective specialism."
Related Internet Links
The BBC is not responsible for the content of external sites.