Quarter of young offenders 'come from care homes'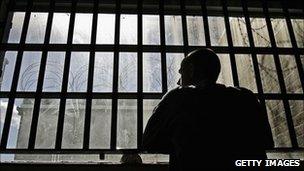 A quarter of the 1,600 children held in young offenders' institutions (YOIs) in England and Wales have been in care, a report by prison inspectors has found.
Chief inspector Nick Hardwick said the figures were of "real concern" and showed a lack of progress over care.
His report also found that of 10 random detainees interviewed on their release, seven reoffended within three months.
The Ministry of Justice said the government would outline its youth justice reform plans shortly.
The report found many youngsters were being released with inadequate support and, in some cases, without an address to go to.
Three of the 10 detainees interviewed as part of the inspectors' research were back in custody within a month, the report added.
"Accommodation was often not confirmed until close to the young person's release or, occasionally, even the day of release," Mr Hardwick said.
"This affected young people's opportunity for early release and meant that some ended up in unsuitable accommodation.
"The most common reasons for children going into care are abuse, neglect or family dysfunction. It is perhaps unsurprising that in our survey, those who said they had spent time in care reported more vulnerability and greater need than those who had not.
"Our very limited follow-up information suggests that many looked-after young people leave custody with inadequate support."
Penelope Gibbs, director of the Prison Reform Trust's Out of Trouble programme, said the findings showed the system was "simply not working".
"Children in care who end up in custody should be visited by their social worker. They should know where they will be living on release and should have a training or education place set up," she said.
The report polled young people and staff at seven institutions from May to October last year.
A Ministry of Justice spokesman said the government recognised youngsters in custody were among the most vulnerable in society and that support was essential to break the "cycle of offending".
"There are already a range of statutory obligations on the part of local authorities to provide safe accommodation and related support, this includes young people who have been in care," the spokesman said.
"We recently announced new financial support for social workers in young offender institutions, which should ensure better links to support in the community."
Frances Done, who chairs the Youth Justice Board (YJB), said: "From April 2012 we shall be directly funding dedicated social workers in YOIs to help meet the needs of 'looked after' young people in custody and address many of the concerns in the report.
"The 22 social workers will act as the bridge between custody and the home local authority to ensure that young people receive all the help and support they need.
"The YJB is determined that these young people should go on to lead useful and productive lives and to become law abiding citizens."
Related Internet Links
The BBC is not responsible for the content of external sites.