Good Beach Guide: UK bathing water quality improving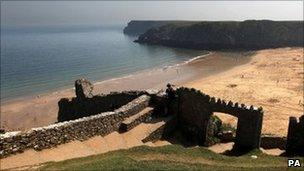 Bathing water quality at UK beaches has reached one of its highest levels in the last 25 years, the publishers of the Good Beach Guide say.
The Marine Conservation Society said 461 sites gained its top "recommended" award this year, 42 more than in 2010.
Newquay, Portrush, Portobello central and Tenby are among the best rated.
But 46 beaches failed to meet basic European standards and the MCS says more must be done to map and monitor sewage pipe discharges.
The MCS tests water quality at 782 sites across the UK and Channel Islands under the EU's Bathing Water Directive rules and the cleanest locations are given the "recommended" grading.
Those that reach the mandatory minimum levels get a "basic pass" and those that do not make the minimum grade are classed as failing.
Among the other top beaches are Polzeath in Cornwall, Barrafundle in Pembrokeshire, Bognor Regis in West Sussex and Sheringham in Norfolk.
Two other Cornwall beaches - Bude's Summerleaze and Par - were among the 41 locations classed as "failing" in 2010. But they have both achieved the "recommended" status this year.
Locations which failed the water quality tests included Blackpool's south and central beaches, St Andrews' east sands, the beach at Aberdyfi, Gwynedd, and church beach in Lyme Regis, Dorset.
The number of beaches given the top rating was the third highest number in the Good Beach Guide's 24-year history.
The basic standards of water quality were set in European law 35 year ago but stricter rules will come into force from 2015 and these will start to be monitored from 2012.
As a result, the MCS said it was concerned that almost double the number of beaches could fail in future years.
The MCS said it was still legal to pump sewage into the sea and not enough of those outlets were being monitored.
Rachel Wyatt, MCS coastal pollution officer, said: "The next few years are critical as the quality of the UK's bathing waters can play a vital role in the economic recovery of our traditional seaside resorts."
It wants water companies and local authorities to investigate and tackle water pollution, which can give swimmers stomach upsets or ear, nose and throat infections.
The Environment Agency's head of bathing waters, Christine Tuckett, said: "Our bathing waters are at their cleanest for two decades, but more work needs to be done.
"Working with farmers, water companies and local authorities, we are continuing to drive improvements in water quality around our coasts."
Related Internet Links
The BBC is not responsible for the content of external sites.