Former Bury MP David Chaytor leaves prison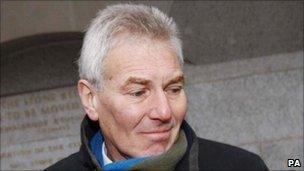 Former MP David Chaytor has been released from jail after serving almost a third of his 18-month prison sentence for fiddling his expenses.
The ex-Labour MP for Bury North was jailed in January after pleading guilty to three counts of false accounting.
The 61-year-old left an open prison in Buckinghamshire to join his family.
Chaytor received £18,000 of taxpayers' money for rent and IT work by submitting forged tenancy documents and invoices to the Commons.
He had claimed for rent he never paid on a property in London which belonged to him, and on another home in Bury which was owned by his mother.
A spokesman for the Chaytor family said: "David was met by his wife and son at eight this morning and headed back home.
"Clearly David is looking forward to a few quiet days catching up with his family and close friends.
"They are looking to move on with their lives and will not be making any further statements at this time."
Chaytor's lawyers had argued at the Court of Appeal that his sentence should have been limited to 12 months to take into consideration his previous good character and guilty plea.
But Lord Chief Justice, Lord Judge said Chaytor's "sad fall from grace was entirely self-inflicted" and said that the sentence must stand.
Chaytor, who left Parliament on 12 April 2010, was suspended by Labour after the allegations surfaced and was excluded from the party on his conviction.
He had tried to avoid the courts in his failed bid to argue the right of parliamentary privilege, which protects MPs from legal action arising from events in Parliament.
The first two weeks of Chaytor's sentence in January were spent at Wandsworth prison in London before he was transferred to low-security Spring Hill jail in Buckinghamshire.