Auschwitz-Birkenau concentration camp to get UK funding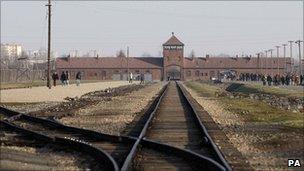 The government is set to contribute £2.1m towards the preservation of the Auschwitz-Birkenau concentration camp in Poland, it has been announced.
The joint contribution will mainly be provided by the Department for Communities and Local Government and the Foreign Office.
The Auschwitz-Birkenau Foundation will be funded over the next three years.
More than a million people were murdered by the Nazis at the Auschwitz concentration camp during World War II.
The concentration camp was the largest site for the mass murder of Jews.
In recent years a number of countries have contributed to the fund to maintain the main concentration camp, Auschwitz, and its nearby satellite camp of Birkenau.
Auschwitz and Birkenau were operated by Nazi Germany in occupied Poland during World War II, and opened as a museum in 1947.
Communities Secretary Eric Pickles said the camp, which stands as an enduring symbol of the Holocaust, was an importance place of remembrance which served to educate people about the horrors of the Holocaust.
Speaking at the Jewish Museum in London, he said: "It is our collective responsibility to ensure that Auschwitz-Birkenau stands as a perpetual reminder of the pain and destructive force of hate.
"We must ensure that the lessons from the Holocaust are taught today and to future generations."
And Foreign Secretary William Hague said Auschwitz-Birkenau underlined "the horrific consequences of intolerance".
Mr Hague said he was "proud that the UK is able to play a part in commemorating the millions of victims who died there" and was helping to ensure the camp's preservation to educate future generations on "the evils of that period in history".
And Lord Greville Janner of Braunstone, who chairs the Holocaust Educational Trust, said the financial support sends a clear message that the camp should be maintained for future generations.
He said: "Through our Lessons from Auschwitz Project, the Holocaust Educational Trust gives over 3,000 British students each year the opportunity to visit Auschwitz-Birkenau.
"This announcement will ensure that when young people visit Auschwitz, they will see for themselves what can happen when racism and prejudice is allowed to go unchecked."
Related Internet Links
The BBC is not responsible for the content of external sites.