Body of Colour Sjt Kevin Fortuna repatriated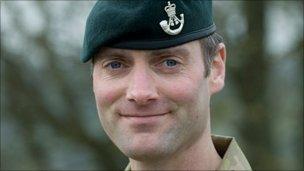 The body of a Gloucestershire soldier killed in Afghanistan has been flown back to the UK.
Colour Serjeant Kevin Fortuna, 36, died in a blast in Helmand Province on Monday while patrolling with 1st Battalion The Rifles.
His body was repatriated to RAF Lyneham, Wiltshire, before the funeral cortege passed through Wootton Bassett.
Tributes have been paid to the colour serjeant, who had also served in Yugoslavia, Northern Ireland and Iraq.
Kevin Fortuna joined the Army at 16 after leaving Bournside School in Cheltenham.
Headmaster Allan Foulds said: "We offer our heartfelt sympathy to his family and friends. It's a hugely difficult time for them.
"We would like to pay tribute as a school, to the way in which this young man served our country so extensively."
The Battalion is based at Beachley Barracks in Gloucestershire.
John Powell, chairman of Tidenham parish council, said: "Any death is a tragedy and it seems even more [like] family when it's someone who works and lives within our parish."
The Ministry of Defence described Colour Sjt Fortuna as a "phenomenal, irreplaceable individual," who "cared for those he commanded passionately".
A joint statement from his wife, Nia, mother Sue and brother Kris, said that "Kevin was a true professional who loved his job and lived life to the full."
Related Internet Links
The BBC is not responsible for the content of external sites.