Newspaper review: Focus on the arrest of Ratko Mladic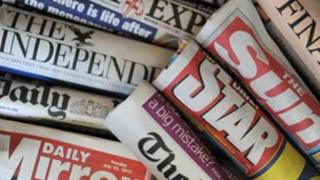 The newspapers carry graphic accounts of the arrest of Europe's most wanted war crimes suspect, Ratko Mladic.
The Guardian says the image of a frail and sickly rural retiree is a far cry from the strutting imperious commander whose name is synonymous with the Srebrenica massacre of July 1995.
"We can't bring back the dead," says the Daily Mirror, "but the prosecution of Mladic might deter future butchers."
The Times says the "Butcher of Bosnia faces justice at last".
Mladic's arrest and extradition court hearing is also the lead story in the Independent, which has a headline: "From Srebrenica to The Hague".
The Daily Express notes that in a sign of his contempt for world opinion Gen Mladic had kept goats named after the western leaders he despised.
According to the Sun, shame over Srebrenica spurred the West to confront Col Gaddafi in Libya, where a massacre at Benghazi was narrowly halted.
"As for Gaddafi," it says, "he's next".
Out of step
The Daily Mail leads on what it refers to as "David Cameron's decision to pump millions more into foreign aid while making cuts at home".
A report showing the UK spends more on aid as a percentage of national income than other nations shows the PM "is out of step with the wishes of the British people", says the Daily Express.
The Daily Telegraph's lead says middle class children in England could miss out on the most popular state schools under "radical" plans to give priority to those from the poorest backgrounds.
The Times runs an editorial extolling the virtues of a man it says should be the next director general of the World Trade Organisation.
After acknowledging his short comings, the paper praises Lord Mandelson for "his practical intelligence; his hard work and attention to detail" and for being "well versed and well connected in international diplomacy".
And Cheryl Cole, who has reportedly been sacked as a judge on the US version of X Factor before the show even started, is the subject of another leader in the paper - this one written completely in Geordie.
The Sun, meanwhile, says Cole is "furious" as well as "stunned and shocked" by the decision while the Daily Mirror reports that she feels "hung out to dry" and upset at not getting a chance to "prove" herself.
The Daily Star says she could now return to the UK edition of the show.